A Little Bit of Holiday Magic by Melissa McClone: Widow Grace Wilcox has spent more than a year deciding to move from Columbus, Georgia, and another few months deciding to move to Astoria, Oregon with her three (almost four) year old son, Liam. It was a bad idea to travel so far north so close to Christmas in bad weather, and it doesn't take long for her to end up in a ditch in Hood Hamlet. Seeking shelter for her son, Grace is relieved to see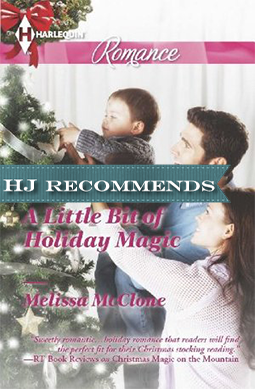 the giant Santa Claus display in firefighter and mountain rescuer Bill Paulson's yard.
"Love never played into Bill's relationships. He much preferred the other L word. Lust. Love was too messy, too complicated. It was capable of causing pain and grief."
Bill Paulson is a ladies' man whose mother refuses to let him grow up. He likes to have fun–whether on the slopes or with a woman. But Grace has no reason to be wary of the fun loving Bill.
"He liked rescuing damsels in distress, but only long enough to see them back on their feet and be rewarded for his efforts. He might help moms, but he didn't date them. Ever. Mothers with children equaled commitment."
Bill never dates in the month of December and he never dates moms. But there's something about Liam and Grace that has the man who's usually impatient to hit the slopes being impatient to get home each day. Bill's experiences with his own father have led him to believe he doesn't have it in him to be a good father or husband for more than a few days, and Grace is leaving soon. Both Bill and Grace are determined to fight their growing attraction. But the town of Hood Hamlet is known for its Christmas magic and bringing couples together. Perhaps that magic, and Liam, can keep Bill and Grace from letting something truly magical slip away.
I may have said this before, but I love Christmas romances. There's just something about this time of year that makes us believe that anything is possible, that love truly can conquer all. A Little Bit of Holiday Magic by Melissa McClone captures that holiday magic and sprinkles it like pixie dust all over her characters. Bill Paulson was a fun character to get to know beyond his laid back, guys-just-want-to-have-fun exterior. His relationship with Liam was the sweetest thing I've ever read. The way he and Liam interacted stole my heart. I wasn't sure if I would like a guy who had a no dates in December rule to avoid commitment and was still being helicopter parented by his mother after the age of thirty, but Melissa McClone finds a way to make even these traits of Bill's work for her story. Grace's character is more serious and practical, but she showed she could hold her own against Bill, as well as gaining back a piece of herself she'd lost when her husband died.
A Little Bit of Holiday Magic by Melissa McClone has a sweet story, a wonderful cast of supporting characters, and more than its fair share of holiday magic. I was pulled in right from the beginning and couldn't stop reading. Although the holiday magic ended up making things a little too pat for me, I was willing to go along with it because the story was so well written and I was really invested in the characters. The liberal use of magic was set up nicely. I haven't had a chance to read all the stories of the supporting characters who people Hood Hamlet, but they have been added to my tremendous to be read pile. I would recommend this book to anyone who loves cute kids, close communities, holiday magic, and a top notch Christmas romance.
Book Info:

HJ Recommends
Published November 1st 2013 by Harlequin Romance Book 4400
A new family …for Christmas?
All widow Grace Wilcox wants is a fresh start for her and her young son, Liam. When her truck spins off the icy road, her rescuer turns out to be the hottest firefighter in Hood Hamlet, and even wary Grace can't say no to his offer of help!
Bill Paulson has stuck to his no-dating rule so far this Christmas, but having Grace in his home is testing his chivalrous side to the limit! Her little boy is melting his heart, even asking for a new daddy from Santa….
But Grace has already loved and lost one hero. Can she really let herself get close to another?