A Love Like Yours by Robin Huber: Lucy is an up-and-coming artist about to hopefully set the art world on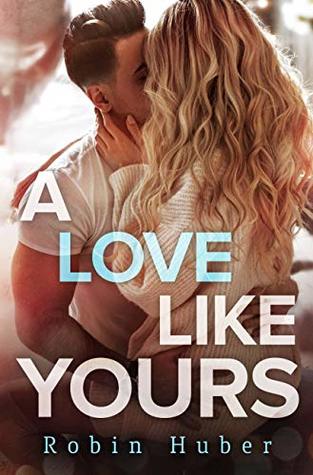 fire with her first gallery show. She's seems to have it all between her studio, assistant/best friend, mentor, and wealthy fiancé. Maybe she's getting cold feet while planning her wedding, but she has a perfect on paper fiancé in Drew despite the fact he's always working.
Sam did make it out of Brighton Park and turned himself into a champion boxer. Sam is a legend in the making with the world at his feet. He's sexy, hot, and very protective of those he cares about. He's still training with the man who took him in and taught him boxing as a rough and angry teen.
Lucy and Sam spent a few years in the same foster home. They quickly became each other's best friend and family. Sam looked out for and protected Lucy from any harm. Naturally, their friendship turned into more and they were wildly in love until a defining event tore them apart and set them on different paths. Both have changed over the years, but they made it out and are following their dreams.
"He doesn't make you happy."
"You don't know him."
He reaches for my hand and says firmly, "I know you."
"Sam."
"I can make you happy, Lucy. You know that I can."
When she gets the opportunity, Lucy can't stop herself from attending one of Sam's boxing matches in person many years later. It's bittersweet when they finally reconnect. Lucy is engaged and Sam no longer does relationships. The attraction is there and stronger than ever despite the time and distance. Lucy has to decide which path to choose when Sam makes it plain that he wants her back.
"How did you know I was here?"
He looks at me and I lose myself in his eyes. "You can't hide from me, Lucy. Not anymore. I'll always find you."
"Promise?"
A Love Like Yours has angst, heat, conflict, tension, and heart. Robin Huber alternates between the past and present in an engaging story. Ms. Huber created a great cast of supporting characters in their friends and teammates. A Love Like Yours is the first book in a duet. Fans of Meghan Quinn and Katy Evans will enjoy A Love Like Yours.
Book Info:

Publication: Published May 21st 2019 | Forever Yours | Love Story Duet #1
In this compelling, fiercely emotional debut, childhood sweethearts have a second chance at true love–but can they overcome the past that tore them apart?
I've been a fighter all my life, even before I made it my career. As a kid in the foster system, I didn't have any other choice. But I've never fought for something–for someone–as hard as I fought for Lucy. I was her protector, her hero–and she was my everything. From the day we met, she made our grim days in Atlanta's notorious Brighton Park fade away–leaving only us.
But we broke each other's hearts, and we did a damn good job of it. A decade has passed since I last saw her, but not a day goes by that I don't think of her clear blue eyes or easy smile. So when I see her at one of my matches–and find out that she's engaged–I need to understand why she turned her back on me all those years ago. Because no matter what I do, no matter how many guys I knock out in the boxing ring, I can't forget her
So I'm not giving up on her. I'm not walking away.
I'm going to fight for Lucy one last time.