A Midnight Kiss to Seal the Deal by Sophie Pembroke: Celeste is a historian who wants to branch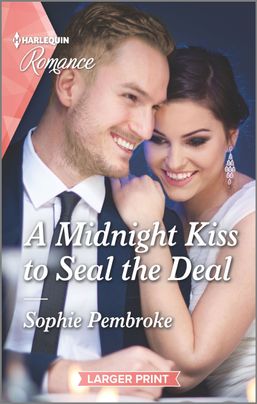 out from academia and bring history to everyday people via a TV series. When she gets an invitation to be on a special Christmas quiz show, she thinks it will be good PR for her. Instead, she gets into a squabble with the handsome TV host, Theo Montgomery. She gets upset when he tries to "mansplain" the incorrect answers for the quiz. The whole program causes a social media disaster.
Both Celeste and Theo are asked to find a way to make things better by appearing in public as a couple. Theo is threatened with losing his New Year if he doesn't help repair the damage to his image. Can the two of them fake a romantic relationship for a short time or will they be pulled into something real?
A Midnight Kiss to Seal the Deal is part of a duet. The author threads some details from the first book into this second one. You could read either novel on its own, but why would you want to do that? I enjoyed every moment 0f reading both books by this awesome author.
I learned the term Christmas cracker in a past book. In this book I learned about gluehwein (mulled wine). I continue to be charmed by British novels and love learning new tidbits.
It is easy to feel empathy for both Celeste and Theo. She is socially awkward and has put her career and pleasing her parents above other aspects of her life. Theo is very handsome, but often feels he is a fake. Under the TV persona and charm he has hidden depth.
The author weaves some humor into the story. It makes the story and characters even more authentic. Even though there is a Christmas theme to this tale, it is fun to read any time of the year.
Book Info:

Publication: January 1, 2021 | Harlequin Romance | Cinderellas In the Spotlight
The start of something magical…
…this New Year's Eve!TV heartthrob Theo Montgomery and historian Celeste Hunter are complete opposites. Yet— suddenly!—they have one thing in common… They're at the center of a media disaster! Could a fake relationship save their reputations? With the world watching, they must convince the public they're the real deal. But if their relationship is just pretend, why do they never want it to end…?
From Harlequin Romance: Be swept away by glamorous and heartfelt love stories.
Cinderellas in the Spotlight
Book 1: Awakening His Shy Cinderella
Book 2: A Midnight Kiss to Seal the Deal