In The Marriage Code by Brooke Burroughs, The current project that app developer Emma Delaney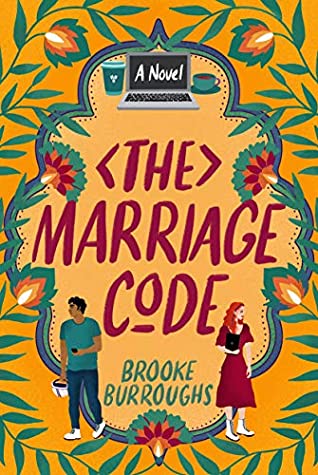 is working on is very near and dear to her heart and something that will help scores of people. So imagine her shock when she discovers the project will be moving from the US to India. Potentially without her. Emma steps in and is given the option to head up the team–but only if she relocates to India for about a year. With nothing tying her down in Seattle since turning down her boyfriend's marriage proposal, Emma agrees. She just didn't realize that she'd have to convince Rishi Iyengar, a coworker in Seattle who's here temporarily from India, to help her team…after taking the lead job away from him.
'She would never be considered good enough to be an acceptable wife in Rishi's world.'
Rishi considers it basically a slap in the face to have to help Emma with the new iteration of her app and make it a success after having the promotion taken from him. But he needs the money this job will bring so he can help his family. Rishi will also need to ramp up his efforts to find a wife now that he's back in Bangalore, with his parents harping on him about his duty to the family. He's reluctant to take Emma's help in writing and perfecting an algorithm to find a wife. But at this point, what does he have to lose? It turns out that Rishi could be missing out on the strongest, most intense attraction he's ever felt in his life–with Emma–if he doesn't stand up and take a chance that could change his relationship with his parents forever.
'Something about her was warping his sense of reality. Here he was, on his way to meet his potential future wife, and all he could do was imagine seeking solace in Emma's arms.'
The Marriage Code was an office romance that spanned two continents and paired together two very different cultures that initially clashed but eventually meshed in the loveliest of ways.
"If you join the team, I'll write you a marriage code."
"What?" Rishi shook his head.
"Please? I need your skills to make this app successful. And it seems like you could use my help with your code… I could have it up and running for you fast."
I'm always happy to pick up a debut novel and get a chance to hear a new voice in literature. With Brooke Burroughs' Marriage Code, not only was it an enemies-to-lovers trope, but it had a tiny bit of a romantic comedy vibe to it as well, which enriched the rivalry between the hero and heroine perfectly. The storytelling itself had a nice flow to it. And I loved all of the minute details Burroughs added to make the settings–Seattle and India–really come to life. Between the culture, the workplace details, the people, and the food…oh my goodness, the food!!…I felt like I truly had a sense of what it was like to be in both locations.
Emma and Rishi were an interesting pair. Both worked in IT in different areas of coding and they were equally hardworking. Both were also up for the same project lead position, which is where the rivalry came into the equation. Rishi and Emma's quips back and forth were fun but not over the top. And unfortunately where they didn't really know each other, or completely understand each other's culture, there was a lot of assuming the worst.
I thought Burroughs really nailed the connection between Emma and Rishi. They didn't want to be attracted to each other. But it was sizzling and something they hadn't felt with anyone else. And that created a lot of problems. Emma's time in India was limited to completing the project, so roughly for a year. And Rishi's family issues made it rather impossible for him to see where things could go between him and Emma. It was tough. But after a few hiccups for our lovebirds, the conclusion was everything I'd hoped it would be.
The perfect type of story to take you on an adventure and leave you with a grin on your face, The Marriage Code was a charmer of a romance.
Book Info:

Publication: Published January 1st 2021 | Montlake |
In Brooke Burroughs's endearing debut novel set in vibrant India, enemies turned allies encounter obstacles in an unexpected multicultural romance only to discover that in the end, love is love.
Emma has always lived her life according to a plan. But after turning down her boyfriend's proposal, everything starts to crumble. In an effort to save the one thing she cares about—her job—she must recruit her colleague, Rishi, to be on her development team…only she may or may not have received the position he was promised. (She did.)
Rishi cannot believe that he got passed over for promotion. To make matters worse, not only does his job require him to return home to Bangalore with his nemesis, Emma, but his parents now expect him to choose a bride and get married. So, when Emma makes him an offer—join her team, and she'll write an algorithm to find him the perfect bride—he reluctantly accepts.
Neither of them expect her marriage code to work so well—or to fall for one another—which leads Emma and Rishi to wonder if leaving fate up to formulas is really an equation for lasting love.