A Not So Meet Cute by Meghan Quinn: The last thing that Lottie expected was to get fired by her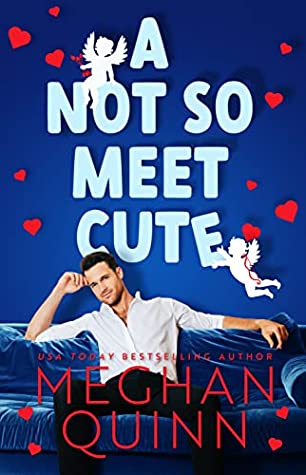 supposed best friend! With her mother already expecting her to move out of the house and her high school reunion just around the corner Lottie is in desperate need of either a miracle or a super rich hot husband! Which is what makes running into hottie billionaire Huxley Cane a perfect chance of fate. When Lottie throws all caution out of the window and blurts out that she is hunting for a rich husband, she definitely did not expect Huxley to suggest that they meet up for a date much less proposition her to play the role of his fake fiancé! But with no job and mounting student debt Lottie agrees to play along after all how bad could playing the real life version of Pretty Woman be? The only thing Lottie refuses to be a hooker and sleep with Hux.. okay refuses is a bit strong the guy sure does know how to wear a suit!
"Fine, but I'm going to need to know your dick size before you leave."
"Why do you need to know that?" I ask.
"Because, I need to know if I have to act like a happy fiancée, or a truly satisfied fiancée."
Fuck, the ovaries on this girl."
Huxley has well an truly screwed himself this time! In his relentless pursuit to seal a business deal Hux has managed to put his foot in his mouth by claiming that he has not only a fiancé but a pregnant one! With his reputation and the business that he and his brother built up from the ground at stake Hux needs to act fast and hopefully find himself a girl crazy enough to play along as his fake lady. He just never expected for his fake fiancé to stir up such real feelings but the question is will Hux put his foot in his mouth yet again this time with his happiness at stake?
"Sometimes it's not the beginning that screams romance, but rather the journey."
Pure and absolute perfection! As with all of her book Meghan Quinn always delivers a winner and this is more than evident with Not So Meet Cute. Right from the description Quinn had me intrigued and this only grew the more I followed Lottie and Huxley as they got up to some rather interesting antics. The fake fiancé trope has always been a favorite of mine and Quinn has well and true done this trope justice.
"I may have a contractual agreement with the man, but I sure as hell can make his life a horror film. And that's exactly what I plan on doing."
Lottie was such a little spitfire! I loved that she never backed down and always gave it as good as she got it. It was really nice getting to see her grow as a person and fully come into her own. I loved the relationship that she shared with her sister and that they played so well of each other. However it was well and truly the electric connection that she had to Huxley that made this book such a page turner. The back and forth banter between Hux and Lottie was page flipping steam that only got better the more they got under each other skin.
"You didn't give me a kiss goodbye."
"Crawl up your own scrotum and drown."
Oh how I love seeing an alphahole turn to mush because of a strong woman and that was exactly what happened with out boy Hux. The only thing being he was actually a really sweet thoughtful guy it was just Lottie that brought put his fiery side. I absolutely loved getting to see Hux try to talk his way out of this major blunder and gosh did they have some hilarious escapades! Watching these two try to fake pre-baby bliss was an absolute laugh, add in some of the outrageous classes that they attended all to woo Hux business partner, pure comic gold!
"But when her lips meet mine, something possessive runs deep through my veins. Life. Her lips on mine are giving me life."
I loved that this book helped build the run up to possible follow up book with both of Huxley's brothers and Lotties sister. I loved that both sets of siblings played such an active part in the overall story and fingers crossed we get to see Kelsey and JP's story soon! I have to mention Lotties frenemy Angela, gosh what a mean girl, however I loved the way that Hux handled her and helped give Lottie the confidence to tell her off finally!
Not So Meet Cute was the perfect fake fiancé romcom that had the perfect combination of punchy sass, steamy goodness and oh so many laugh out loud moments! I highly recommend reading this book asap!
Book Info:

Publication: November 2nd 2021 | Pub: Meghan Quinn |
How did you two meet?
The quintessential question asked to every couple. And the answer is usually some bubbly, lovey dovey tale of being struck in the bum by Cupid's arrow.
My meet cute (well not so meet cute) is slightly different. I was trolling a wealthy neighborhood in Beverly Hills, searching for someone to take me as their bride, you know, to make my arch nemesis jealous who consequently just fired me.
He was stomping around the block like some sort of gorgeous ogre, mumbling about a business deal gone wrong and attempting to finagle his way out of it.
And that's when we bumped into each other.
There were no sparks.
Not even a hint of blossoming love.
But next thing I knew, I was scarfing down free chips and guac, listening to this man lay out all of his problems which led to his big ask . . . he wanted me to be his Vivian Ward, you know, from Pretty Woman–minus the frisky behavior.
We're talking about living in a mansion, intimate double dates, and pretending we were head over heels in love . . . and engaged. Can you imagine?
The absolute audacity.
But people do crazy things when they're desperate. And I reeked of desperation. So, I struck up a deal.
My one big mistake, though . . . big . . . HUGE? I accidentally fell for the incomparable Huxley Cane.