In Stolen Kisses by Annie Rains, Krista Nelson has always had a crush on her best friend, Noah Sawyer. Noah claims he has only seen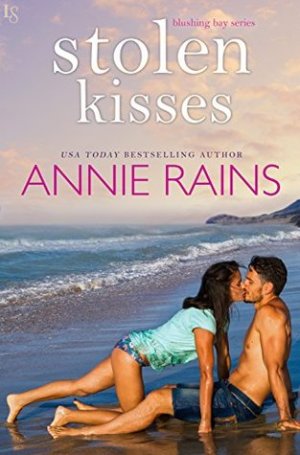 Krista as one of the guys, but a drunken kiss changes all that. Together, Krista and Noah have to navigate the complications of going from best friends to being a couple. The only problem is Noah can't see himself as a long-term relationship type of guy, and Krista only wants forever.
Krista and Noah were great together. When Noah felt like no one else understood him, he could always turn to Krista. And when the possibility of losing out on an upcoming promotion stresses Krista out, he knows just what to do to make her feel better. For the most part they bring the best out in one another.
For someone who couldn't picture himself as a father, Noah was really great with Adam, a pediatric patient of Krista's. Even though he doesn't have to do it, he offers to take Adam out fishing on his boat again because he knew it made the young boy happy when he was otherwise miserable due to his illness.
I liked Krista up until the point she frustrated me. Instead of talking to Noah, she makes assumptions and doesn't give him an opportunity to explain. Noah wanted to know what was wrong, begged her to tell him, and she comes up with a half-hearted excuse instead of confronting the elephant in the room. If she simply told him what was bothering her, the drama could have been avoided. It felt like that was thrown in there to create drama, because up until that point, there had been none.
I'm interested in reading about Noah's brother, Sam, and his estranged wife, Abby. Their relationship issues were hinted at in this book, but it wasn't explained why either of them refused to file for divorce, despite the fact Abby refuses to talk to him. I'm looking forward to their story, because it seems like there's more to their issues than what was referred to in this book.
I haven't read the first book in the series, which is about Noah's brother, Jack. Although Jack and Grace are also in this book, with Noah and Grace helping them with their wedding preparations, I thought this works well as a standalone since it mainly focuses on Noah and Krista.
Stolen Kisses is a sweet friends to lovers story. If you enjoy the friends to lovers trope, this book would be for you..

Book Info:

Publication: October 3, 2017 | Loveswept | Blushing Bay #2
Krista Nelson loves being a pediatric nurse. What she doesn't love is her demanding boss and stressful workload. Fortunately, Krista knows she can count on a waterfront happy hour every Wednesday with her childhood best friend, Noah Sawyer, the one part of her life she never wants to change. But, like it or not, things are changing—because Krista can't stop wondering what would happen if she grabbed Noah by the collar and kissed him like it was her job.
Bored of the superficial women he's been dating, Noah's putting his love life on hold so he can focus on his family's high-end fishing business. Sure, there are moments when he's tempted by Krista's soft lips and killer smile—but her friendship is too important to Noah. How could he let himself jeopardize everything they share? The trouble is, if he doesn't take the real risk of opening his heart, Noah might just let the perfect catch get away.