A Proposal from the Italian Count by Lucy Gordon: Two fathers and a history neither child quite understood, but when they meet as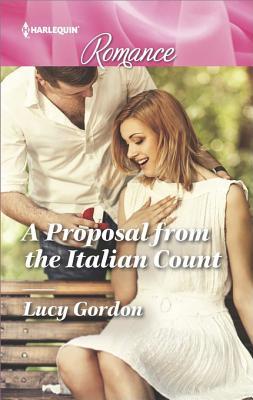 adults will they be able to move past the history?
Jackie Benton was used to being in charge. She had been for so long with her father's shop that she didn't really know any other way. When her father passed away and there was no where else to go she wasn't really certain what was going to happen. That's when Vittorio Martelli showed up. A real Italian count she wasn't sure how their father's had known each other and then the history flowed.
Can these two figure out how to work with the past rather than fighting it?
Ms. Gordon has given her readers a very drifting story. There aren't many twists and turns but there are two very strong characters that still have this reader scratching her head about how they came together. This isn't so much a disjointed plot as disjointed characters. There is a HEA but otherwise there isn't much here.

Book Info:

Publication: Published October 1st 2017 | Harlequin Romance |
To repay an old debt… Deliciously handsome Count Vittorio Martelli's promise to repay his late father's debt leads him to penniless and unemployed Jackie Benton. So to start with, he offers her a prestigious job in Rome working for him! He'll take her as his fiancee! Jackie cannot believe her luck when an Italian stranger hands her a lifeline out of the blue. But when she gets there she discovers Vittorio also needs a convenient fiancee…and feisty, hardworking Jackie is the perfect candidate!