In Now That You Mention It by Kristan Higgins, Everyone at some point has heard that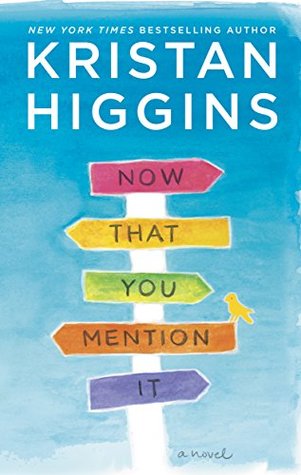 your life flashes before your eyes during near-death experiences, right? Well, gastroenterologist Nora Stuart has been through two major life-altering events in the past couple of years and can say it's true. But she never expected that the most recent incident, being hit by a van while jaywalking to grab a pizza, would find her lying on a hospital gurney witnessing her boyfriend, ER doc Bobby, hitting on a pretty resident. That was the moment that Nora knew she needed to get away from Boston for a while and get back to her roots on Scupper Island in Maine. The one place she vowed she'd never return to, but the only place she can think of that will allow her to heal physically, emotionally, and mentally.
'Funny, how I'd never missed the island. Now, I couldn't imagine being away from it, the smell of sun-warmed pine needles and salt, the pure air and cold water, the call of the loons at night.'
With her faithful canine companion, Boomer the Bernese Mountain Dog, aka the Dog of Dogs, by her side, Nora finds solace in the beauty of her former home. But she also finds that the locals have a long memory. They still remember the shy, overweight, studious girl from her childhood and not everyone is happy to see her return, even if only for the summer. Nora's injuries from the accident somehow heal faster than her internal scars do so she sets out to prove to herself she's still a capable, strong woman. The lessons she learns along the way from her stoic mother, her niece Poe–who is hiding her own world of hurt through rebelliousness, and a lovely father/daughter duo humble Nora in the best of ways. She realizes that life is a series of choices and if you try to focus on the good and deal with the bad as it comes, you just might find yourself with everything–and everyone–you truly need.
'There was nothing particularly special about his face–brown eyes, straight nose, normal everything else, but when you put them together, the porno music started playing distantly in my brain.
He was a man who said a lot with his eyes. They looked slightly amused with my ogling.
The porno music got louder.'
Now That You Mention It proves once again that Kristan Higgins is a master at crafting heartfelt, emotional stories infused with humor and a wide-eyed realistic look at every day life.
'You wonder how much abuse you can take and still love someone. You wonder how long they can treat you like nothing but still want them back. You wonder how many years it will take to forget how things used to be, how long you'll burn yourself with that tiny ember of hope before the deluge of their neglect drowns it.
A long time, in my case. A long, lonely time.'
I've been hooked on Kristan Higgins' work since I discovered her Blue Heron series and I've never looked back. And with every new book she puts out, I fall all over again for her down-to-earth characters, the way she weaves in the good, the bad, and the awkward we are all a little bit too familiar with, plus of course all the cute pets that add something special to each story. Now That You Mention It had every bit of that *and* a gorgeous island off the coast of Maine (my home state!) as a perfect backdrop for Nora's summer of healing. I do have to say that Higgins captured that determined, self-sufficient, helpful-but-slightly-aloof attitude Mainers (pronounced: Mainahs) are known for. And boy didn't I chuckle at some of the tidbits she threw in about the stranger aspects of island life and the crazy local critters. She certainly did her research. *giggle*
Okay, so Nora is one of my favorite heroines Higgins has created so far. She was wicked smart, had tons of inner strength, she was a genuinely nice person, and she was mad about all things Harry Potter. But I liked that Nora had a backbone, too. After her hellish high school years, she reinvented herself and didn't take any flack from people. She may have still tried overly hard to put on a cheerful persona while going full speed ahead with her career, but in Boston Nora became the version of herself she couldn't be on Scupper Island. Well, until the "Big Bad Event" happened. Now I will forewarn readers that it will be a tough chapter to get through and may be a trigger for some. But it was the first of two near-death events in her adult life that changed everything. It drew her and then boyfriend Bobby closer together, and they got Boomer together at that point. But it was when Nora got hit by the Beantown Bug Killers van and saw her life flash before her eyes–and heard Bobby hit on a young doctor-in-training–that sent her home to Maine. Which turned out to be a stellar plan.
The secondary characters were an absolute hoot, both in Boston and in Maine. From Nora's mom to her niece Poe to sweetheart Audrey and all of the locals, well they made a big impact on her life. I loved all of their funny conversations and how Higgins didn't shy away from showing the positive and negative sides of people. It was pretty real and raw sometimes, but there were always lighthearted scenes to make up for it. The dinner party, the disastrous first date Nora goes on, and some of the stories of her patients will absolutely get readers laughing. But it was the moments of realization and her recollections of her childhood with her beloved sister and father that truly touched my heart.
I chuckled. I got misty-eyed. I nearly yelled out loud at a couple of characters. I think that's a true indicator of a talented writer, when they can evoke so much emotion out of a reader. And I can tell you that Now That You Mention it is going to stay in my favorites collection for a long time to come.
Book Info:

Publication: December 26th 2017 | HQN Books |
New York Times bestselling author Kristan Higgins welcomes you home in a funny, emotionally charged must-read novel about the complications of life, love and family
One step forward. Two steps back. The Tufts scholarship that put Nora Stuart on the path to becoming a Boston medical specialist was a step forward. Being hit by a car and then overhearing her boyfriend hit on another doctor when she thought she was dying? Two major steps back.
Injured in more ways than one, Nora feels her carefully built life cracking at the edges. There's only one place to land: home. But the tiny Maine community she left fifteen years ago doesn't necessarily want her. At every turn, someone holds the prodigal daughter of Scupper Island responsible for small-town drama and big-time disappointments.
With a tough islander mother who's always been distant and a wild-child sister in jail, unable to raise her daughter—a withdrawn teen as eager to ditch the island as Nora once was—Nora has her work cut out for her if she's going to take what might be her last chance to mend the family.
But as some relationships crumble around her, others unexpectedly strengthen. Balancing loss and opportunity, a dark event from her past with hope for the future, Nora will discover that tackling old pain makes room for promise…and the chance to begin again.