A Pup to Rescue Their Hearts by Alison Roberts: This book begins with an exciting life-saving event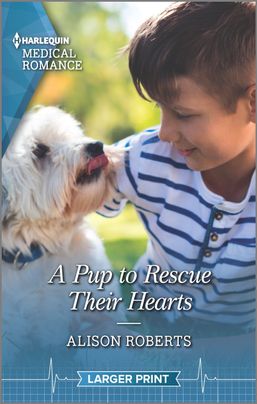 when hero Dr. Josh Stanmore finds a little girl who isn't breathing in the children's playroom at Gloucester General Hospital. He and nurse Stevie Hawksbury work together to save the little girl's life. This is a super introduction to our hero and heroine.
Stephanie "Stevie" Hawksbury has recently moved out of London and started a nursing job in Gloucester General Hospital's pediatric unit. She is a single mother whose son Mattie is having trouble adjusting to the move. When Mattie gets in trouble with a gang of delinquent boys and ends up at the police station Stevie is very upset. Mattie isn't charged with anything but the police wanted him in a safe place until Stevie could get there to pick him up. This incident led to Stevie allowing Mattie to accept a big brother from the local Big Brother program. Stevie is surprised to find out that Mattie's Big Brother is none other than her boss at the hospital Dr. Josh Stanmore. Soon enough Josh and Mattie bond with each other. Josh is so good for Mattie. Yet Josh has made Stevie quite aware that he wants nothing to do with a family. Stevie knows she needs to fight back her attraction to Josh. Mattie always comes first.
Josh Stanmore is a very dedicated doctor. He cares about all the children helped in the pediatric ward. Josh assures himself that all these children are more than enough to make him happy. He doesn't want any children of his own. Josh didn't have the best childhood; abandoned at birth, adopted and abandoned again when his adoptive parents conceived a son of their blood. Nope. He doesn't need kids or a family. Imagine his surprise when he discovers he has a twin brother, a brother who didn't know he was adopted until the twin brothers met for the first time. What a shock! Then there's his growing feelings for Stevie and Mattie. Josh is struggling with all these new people in his life. How is he going to let down his guard and accept he is falling in love with Stevie and loves Mattie too?
A Pup To Rescue Their Hearts by Alison Roberts is the first book in the Twins United in the Children's Ward series. I was attracted by the blurb description of this book. I did enjoy the overall storyline but kept getting knocked out of enjoyment of the story by so much medical detail. I knew this was a Harlequin Medical Romance and I don't read many books in this line although I do read many books in other Harlequin lines which I really like but this book had a little too much medical detail for my taste. I loved the characters though and the overall arc of the story. It's a well-written book. I'm sure fans of Harlequin Medical Romance will enjoy this book.
Book Info:

Publication: February 1st 2021 | Harlequin Medical Romances | Twins Reunited on the Children's Ward
Could an unlikely bond…
…be the answer to their dreams?Nurse Stevie hates feeling out of her depth. But with a new job and a son who's struggling to settle in, she needs help. She just didn't expect it to come in the shape of her boss and one adorable dog! On paper, Josh is everything Stevie should avoid. But beneath his charming exterior is a heart also in need of rescuing…
From Harlequin Medical: Life and love in the world of modern medicine.
Twins Reunited on the Children's Ward
Book 1: A Pup to Rescue Their Hearts
Book 2: A Surgeon with a Secret