A Ready Made Amish Family by JoAnn Brown: JoAnn Brown is becoming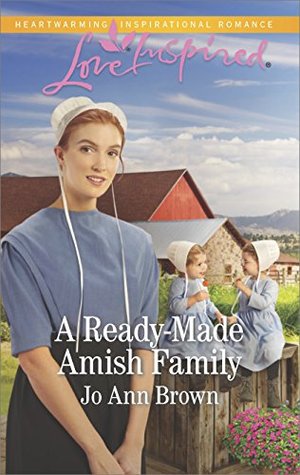 one of my favorite authors of the Amish genre in the Love Inspired series. It was a pleasure to read A Ready Made Amish Family, having already read and enjoyed other books about the Stoltzfus brothers and their mother Wanda.
In A Ready Made Amish Family, Isaiah, who is recently widowed, and a minister and a blacksmith, is suddenly left with the guardianship responsibilities of his best friends' two sets of young twins. These young twins are experiencing sadness and confusion after suddenly losing their parents. Isaiah feels lost and unsure of how to help the children, and hires a young Amish woman, Clara, to be their "nanny". Clara and the children develop a strong and almost instant affinity and fondness for each other, and Isaiah feels quickly at ease with her, and in awe of how she calms the children and how they listen to her. They believe that the children will not be with them very long though, as they expect either an aunt or the children's grandparents to return from traveling.
As Isaiah and Clara work together to soothe the children, and as Clara helps lift the children's spirits again, a gradual friendship develops, though they are resistant to matchmaking attempts by the community. Neither Isaiah or Clara want a romantic relationship after each having suffered losses and sadness.
To avoid spoiling more of the story, I will simply say that this is a book I highly recommend for my fellow readers. The story is touching and the characters are well developed. I would love to hear what other readers think about A Ready Made Amish Family.
Book Info:

Publication: May 1, 2017 | Love Inspired | Amish Hearts
As temporary guardian of two sets of young and energetic twins, widowed minister Isaiah Stoltzfus needs a nanny immediately. Keeping the kids happy and safe while also trying to run his blacksmith shop is becoming impossible. So when Clara Ebersol arrives to help, Isaiah is relieved. Able to soothe, teach and delight the children, Clara feels like family. Love-shy Isaiah knows that recently jilted Clara isn't looking for marriage, either. But with matchmakers—including four young kinder—on the job, Isaiah and Clara may soon find their hands clasped in matrimony.