In Anchor Me (Stark Trilogy #4) by J. Kenner, Nikki Fairchild Stark knows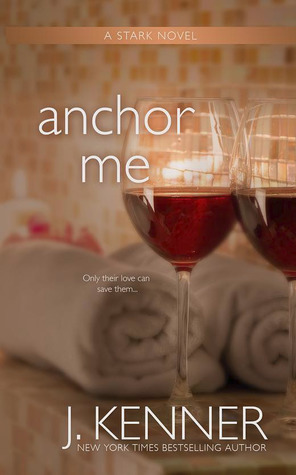 that every single moment of happiness and contentment she and her sexy husband Damien have enjoyed has been hard-won. They've waged some fierce battles against their own pasts and have come out the other side with a beautiful relationship and a passion between them that won't quit. But their married bliss encounters a roadblock when tragedy strikes and old issues comes roaring back to haunt them.
'There's a gulf between us right now. A gaping chasm filled with uncertainty and secrets, and it's one that I don't know how to cross. I don't even know where it came from.'
The last thing Nikki will allow to happen is for this new threat to tear her and Damien apart. She knows they are both stronger than they once were, individually and as a couple. But when Damien begins to pull away and appears to be keeping secrets, Nikki wonders if their relationship is as strong as she thought. She'll do whatever it takes to make things right again and prove to her husband for once and for all that they are meant to be together forever.
"Love isn't reliance, baby." He strokes my hair, his eyes looking deep into mine. "The truth is, you can stand on your own. But you choose to stand with me."
"Yes." The word is almost a gasp, and I cling to him as relief and understanding floods through me. "Yes," I repeat. "I choose you."
Fans of J. Kenner's Stark series have been clamoring for another book all about Damien & Nikki's dynamic relationship. And not only did we get just that, but we also got one heck of a wild ride as the lovely couple found out they had yet even more to overcome in their search of a HEA.
"You're my strength Nikki. We both know that. And there's no shame in needing the person you love." His smile touches his eyes. "I actually think that's the point."
Anchor Me was somewhere between a novella and a full length book at not quite three hundred pages. But it was packed full of the explosive chemistry that is Nikki and Damien Stark. Plus it pulled in characters from other spinoffs of the Stark world including the S.I.N. and Stark International series. I do think readers would benefit from reading previous books in at least the Stark Trilogy before picking this one up, but if you're new to this world of all things Stark, I think with some perseverance you can read this as a standalone.
I can't get into the particulars of Nikki and Damien's new journey without giving too much of the storyline away. What I can say is that tragedy as well as an external threat rocked their relationship to the core. So this was all about how Damien and Nikki handled the situation individually and also together as a couple. Now this was written from Nikki's POV, which worked quite well in this situation. I appreciate how honestly Kenner wrote about our heroine's emotions, her fears, and her love for her husband. The scenes were touching, passion-fueled, heartbreaking, and full of bravery and careful optimism toward the end. But what I enjoyed most was the underlying message that Nikki and Damien were stronger when they communicated and stood together against their problems, rather than doing so on their own and keeping secrets.
With a wide array of issues to conquer before they could move on to the next step in their marriage, Anchor Me proved once again that Damien and Nikki were a force to be reckoned with and that they were stronger than whatever life threw at them.
Book Info:

Publication: Published April 11th 2017 | Martini & Olive | Stark Trilogy #4
Fourth novel in the fast-paced series including Release Me, Claim Me, and Complete Me. This sexy, emotionally charged romance continues the story of Damien Stark, the powerful multimillionaire who's never had to take "no" for an answer, and his beloved wife Nikki Fairchild Stark, the Southern belle who only says "yes" on her own terms.
It's a new chapter in the life of Nikki and Damien Stark …
Though shadows still haunt us, and ghosts from our past continue to threaten our happiness, my life with Damien is nothing short of perfection. He is my heart and my soul. My past and my future. He is the man who holds me together, and his love fuels my days and enchants my nights.
But when tragedy and challenge from both inside and outside the sanctity of our marriage begins to chip away at our happiness, I am forced to realize that even a perfect life can begin to crack. And if Damien and I are going to win this new battle, it will take all of our strength and love …