A Royal Pain by Megan Mulry is a snarky, cheeky, chick lit/ romance that is highly entertaining!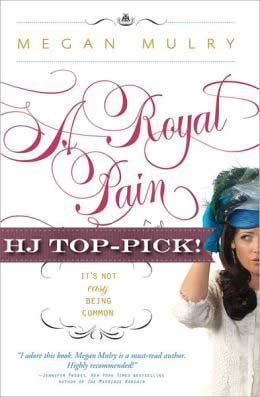 Bronte Talbott has just gotten out of a bad relationship when she meets Max Heyworth. She is definitely not in the market for a boyfriend and she thinks of Max as her transition man. Max on the other hand wants more than a fling with Bronte. Bronte has always been fascinated by British royalty, and unbeknownst to her Max is hiding the fact that
he is the 19th Duke of Northrop.
Max would like to make Bronte his duchess but he fears what her reaction will be when she finds out that he is a duke. He doesn't know if Bronte will be able to handle his families disapproval , and all that comes with being a royal duchess. If Max is to stand a chance with Bronte he must convince her that love can conquer all, including a meddling mother in law, the paparazzi, and the notoriety that comes with being a member of the royal family.
A Royal Family is a fun and flirty read that kept me up late at night watching to see how Max and Bronte's story would unfold. I loved the banter between the characters, it definitely gave me a few chuckles. The chemistry between Max and Bronte is super hot and explodes off the pages. I highly recommend this book that is impossible to put down to all fans of chick lit/romance, who enjoy a good laugh, as well as an emotionally charged story that will leave you breathless. This is a Harlequin Junkie top pick!
Readers will be delighted to know that A Royal Pain is Megan Mulry's debut novel and the first in her new Royal series. The next book in the series, Earl Meets Girl, is due out in June 2013, and I can't wait to get my hands on it! I'm also super excited about Megan's historical e-romance novella, L is for Lady, that is due out in March of 2013.
BookInfo:

Publisher: Sourcebooks Landmark (November 1, 2012) | Series: Unruly Royals #1
A life of royalty seems so attractive…until you're invited to live it…
Smart, ambitious, and career driven, Bronte Talbot started following British royalty in the gossip mags only to annoy her intellectual father. But her fascination has turned into a not-so-secret guilty pleasure. When she starts dating a charming British doctoral student, she teases him unmercifully about the latest scandals of his royal countrymen, only to find out—to her horror!!—that she's been having a fling with the nineteenth Duke of Northrop, and now he wants to make her…a duchess?
In spite of her frivolous passion for all things royal, Bronte isn't at all sure she wants the reality. Is becoming royalty every American woman's secret dream, or is it a nightmare of disapproving dowagers, paparazzi, stiff-upper-lip tea parties, and over-the-top hats?