In A Seal's Strength by JM Stewart, former SEAL and single father Gabriel Donovan is ready to get back into the dating scene three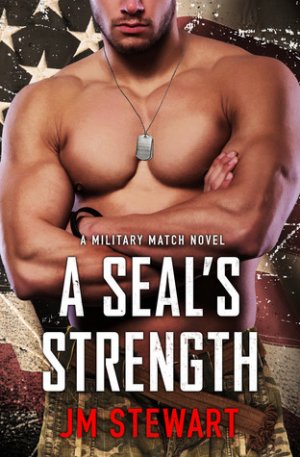 years after the death of his wife. After being left at the alter, Stephanie Mason has little faith in men, but she wants someone to share her life with. Both sign up for with a dating service called Military Match, and couldn't be more surprised when they meet up, because this is the first time they've met. Stephanie and Gabriel were an item in college, but after the death of his parents, he disappeared, leaving Stephanie heartbroken. Now neither wants something permanent, but the more time they spend together, will they change their minds?
I wanted to like this book. And for the most part, I liked what little story there was. And I say little because it felt like all Gabriel and Stephanie did was have sex. They rarely left each other's houses. I found it hard to believe that Gabriel could get away from his daughter that much. It felt like the pair didn't really know how to deal with each other anymore, and the only way they were comfortable was to have sex. Repeatedly.
I was left feeling like I didn't know much about the characters, other than what happened between them back in college, and what happened to Gabriel's wife. Their jobs are maybe mentioned once or twice, but other than that I didn't get a sense for them as people. Gabriel doesn't even know what happened between Stephanie and her ex.
"I don't know who hurt you, but I'd really like to deck him."
Gabriel harbors a lot of guilt about being with Stephanie. It's been over three years since his wife died, yet it was mentioned several times that being with Stephanie felt like he was cheating on Julia. I perhaps would have understood that more if it was closer to when Julia had died, but after so many years he should have started to move on. While he's feeling guilty, Stephanie is hurt by the way Gabriel left, yet she keeps it bottled up instead of confronting the past.
Then there's Gabriel's ten year old daughter, Charlotte. I have to say I was disappointed because in the whole book we get one, yes one, scene where she interacts with Stephanie. Sure she's mentioned, and she's seen at another point as well, but there's no further direct interaction between the pair other than that one scene. I would have liked to have seen more of how they interacted together, especially since Charlotte was the one who pushed Gabriel to get back into the dating scene. I also would have liked to have seen more interaction between Gabriel and Charlotte. I was left feeling like I didn't really know that much about her, other than she wanted Gabriel to date and seemed to act much older than a ten year old.
While I liked the concept of a second chance romance, I was left disappointed with this book. I would have really liked to have seen the characters step away from the bedroom more and get to know each other again since eleven years had passed. Unfortunately they don't do that. By the end I didn't really care either way if they decided to give their relationship a shot or not, because other than the sex, I had no inkling of why they felt so strongly for one another.

Book Info:
Stacey Bruneau| 2.5 Stars | Nope! | No |
Publication: October 3, 2017 | Forever Yours | Military Match #2
As a SEAL, Gabriel Donovan did the toughest jobs imaginable without blinking an eye. But three years after his wife's death, the idea of dating still makes him sick to his stomach. His daughter desperately needs a mother, though, and there's nothing Gabe won't do for his little girl.
Stephanie Mason doesn't run from anything. Not even coming face to face with the "one that got away" on a blind date. Steph's body vividly remembers every single thing about Gabe and while some things have changed, the way he makes her feel sure as hell hasn't.
Gabe and Steph know that love comes with risks, but if they're brave enough, this second chance might just bring them the love of a lifetime.