In A Shiver of Light (Merry Gentry #9) by Laurell K. Hamilton, Faerie Princess Meredith NicEssus is about to embark on a new chapter in her life: motherhood. One would think it would be the most joyous of occasions. And it is. But being the first Faerie Princess born in America has thrown her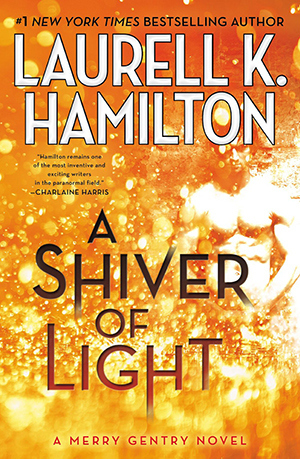 into the spotlight her whole life. Thankfully, Merry has the love and adoration of several men, the fathers of her unborn babies, to protect her from her crazed aunt and uncle as well as those who believe her to be a threat to the courts her relatives reign over.
'I just wanted to enjoy being a new mom and watch the men I loved be fathers, and just enjoy the moment, but my relatives had been ruining the happy moments of my life for as long as I could remember. Why should this be any different?'
Thanks to her days as a private investigator in L.A., Merry knows her biggest threat is her uncle, King Taranis, who has assaulted her in the past and is intent on bringing her back to the land of faerie. After the birth of her triplets, Merry does everything in her power to watch over her young family and the loves of her life. But even with their combined abilities and strengths, will it be enough to keep her loved ones safe?
'I was learning that happily-ever-after was the beginning of the next chapter, not the end of the story.'
A Shiver of Light is book nine in the Merry Gentry series, centering on Faerie Princess Meredith NicEssus and her complex life in the Western Lands of Los Angeles. Now, because the world Laurell Hamilton has created is so intricate and involved, I would suggest reading this series from the beginning if possible. Which is something I did not do. So there was a big learning curve when it came to figuring out Merry's world.
I thought the characters were interesting, with the mix of creatures and types of beings that were detailed here. And the writing style flowed quite nicely, done in a fashion that worked well for the Fantasy genre. It included dialogue where modern slang and old world phrases blended together easily, bringing both worlds together. My only issue, other than being lost for the first half of the book while I was getting used to everything :), was that the plot moved a little slowly at some points. Not bad overall, but it seemed like the details in some scenes were a bit much, like explaining in detail every part of how someone was dressed, and so on. I did think Merry's involvement with more than one man was a provocative part of the plot and somehow simply just fit her personality, as she was so caring and loving. Plus she was a Princess, so…perks of the job? lol
If you're a fan of the Merry Gentry series, I think this will be a good new addition to your collection. And if you're new to Merry's journey, check it out from the beginning and follow her on her path to love & motherhood.
Book Info:

Published June 3rd 2014 by Berkley Hardcover | (Merry Gentry #9)
I am Princess Meredith NicEssus. Legal name Meredith Gentry, because "Princess" looks so pretentious on a driver's license. I was the first faerie princess born on American soil, but I wouldn't be the only one for much longer…
Merry Gentry, ex–private detective, now full-time princess, knew she was descended from fertility goddesses, but when she learned she was about to have triplets, she began to understand what that might mean. Infertility has plagued the high ranks of faerie for centuries. Now nobles of both courts of faerie are coming to court Merry and her men, at their home in exile in the Western Lands of Los Angeles, because they will do anything to have babies of their own.
Taranis, King of Light and Illusion, is a more dangerous problem. He tried to seduce Merry and, failing that, raped her. He's using the human courts to sue for visitation rights, claiming that one of the babies is his. And though Merry knows she was already pregnant when he took her, she can't prove it.
To save herself and her babies from Taranis she will use the most dangerous powers in all of faerie: a god of death, a warrior known as the Darkness, the Killing Frost, and a king of nightmares. They are her lovers, and her dearest loves, and they will face down the might of the high courts of faerie—while trying to keep the war from spreading to innocent humans in Los Angeles, who are in danger of becoming collateral damage.