In A Silver Wolf Christmas (Heart of the Wolf #17) by Terry Spear, Deputy sheriff CJ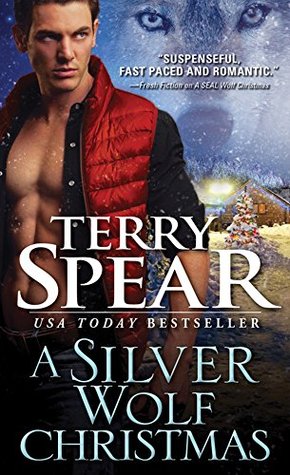 Silver and the entire wolf shifter town of Silver Town, Colorado, are preparing for a festive Christmas season this year. Part of the fun will be getting to know Laurel MacTire a whole lot better. But CJ's attempts are thwarted when three mysterious out-of-towners hang around starting trouble, and with Laurel and her sister's search for their missing aunt. CJ wants to prove to the she-wolf how serious he is about their future. When he finally gets a moment alone with Laurel, that is.
"No matter what we discover," CJ said, his voice dark and serious, "I want you to stay here. With me, the pack. You and your sisters."
She looked up at him. He was frowning at her, appearing a little anxious.
"Because of what we might discover about how our aunt disappeared?"
"Because I want you in my life."
Laurel and her sisters came to Silver Town to finally find out what happened to their aunt years ago when she went missing from the area. Remodeling and opening up the old Victorian hotel has given them clues, but they seem to lead nowhere. Well, aside from pointing to the fact that the hotel is haunted. Laurel also finds herself very sweet on playful CJ, who is determined to win her over. But if it turns out that someone in his hometown was part of her aunt's disappearance, how would it affect their burgeoning romance?
"My brothers and I love A Christmas Story. It reminds us of ourselves when we were that age."
…"What part reminds you of your childhood then?"
"Doing something dumb when trying to please Dad and cursing when it went all wrong. Then Mom washing out our mouths with soap."
Romance blossomed right along with mystery and intrigue in Terry Spear's latest offering, A Silver Wolf Christmas. Wolf shifters CJ and Laurel were the perfect pair to bring in the yuletide season, paranormal style.
Now this is book seventeen in the long-running Heart of the Wolf series, so you would probably be better off having read a couple of other installments before leaping in here. But, if you don't get too caught up in who is related to whom and what everyone's specific background is, you can probably read this as a standalone. I will mention that Laurel and CJ's initial meeting and instant attraction was explained previously, so it will feel like you're kind of thrown into their story partway through if you start the series with this book.
I really did have a lot of fun with CJ and Laurel. They were cute and playful…everything you would think of a wolf shifter couple being. And theirs was a sweet romance although it definitely wasn't lacking in heat! I just loved that they chose to pursue a relationship even though so much craziness was going on with their families and that they decided to simply see where it went. There was an honesty in the way Terry Spear wrote their emotional scenes that made this paranormal romance seem believable in that aspect.
Winter and the Christmas spirit were definitely alive and well in Silver Town. For some reason, wolf shifter books centered around this theme just seem to work so well for me. I loved the traditions that were described and how seeing it through Laurel and her sister's eyes as newcomers to town brought a whole new life to it. And even the thread of mystery that was woven in around their aunt's disappearance ended up working in with the holiday theme. I especially liked how it all worked out for everyone. HEA's all the way around!
Looking for a bit of wolfy fun and romantic goodness this Christmas season? Then I definitely suggest checking out the latest in the Heart of the Wolf series.
Book Info:

Publication: Published October 6th 2015 | by Sourcebooks Casablanca | Heart of the Wolf #17
IT'S A SILVER TOWN CHRISTMAS
CJ Silver and his brothers have returned to Silver Town eager to reconnect with the pack. And with the she-wolf newcomers renovating the old Victorian Silver Town Hotel, it looks like the holidays are going to be very merry indeed.
AND THE WOLVES ARE READY TO HOWL
Laurel MacTire and her sisters are excited to be living in a wolf-run town, but they have another motive- to solve the fifty-year-old mystery of their aunt's disappearance. When CJ gets a whiff of trouble brewing, his protective instincts kick in-now Laurel has a hotel opening to prepare for, a mystery to solve, and a brawny wolf shifter underfoot. Perhaps she should have resisted the temptation to kiss him so wickedly in the snow…