Seven Nights to Surrender by Jeanette Grey is a story about finding yourself and in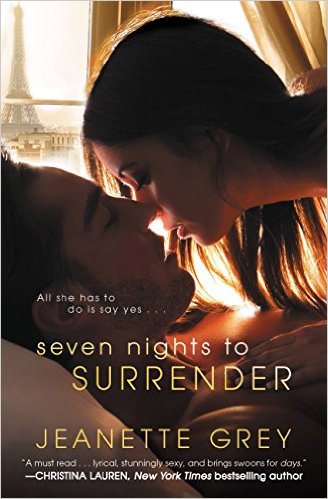 return finding love.
Kate is an artist. She spent what little money she has on a trip to Paris. She needs to find herself and grab some inspiration for her art. Rylan is gorgeous and confident. He can have any woman he wants and knows it. When he learns that Kate has just been robbed, he buys her a cup of coffee, with the intentions of seducing her. Only Kate isn't one of the other willing women who drop their panties for him in a hot minute. Kate is smart and realizes he's playing some kind of game with her. But seduction turns to real interest as they get talking.
Rylan offers to be her tour guide and not only does he show her Paris but he also shows the art of pleasure and how to ask for it. I really enjoyed Rylan and Kate together. Their attraction is apparent. They connect on a level that is more than physical, but unfortunately Rylan has some secrets and when they come out, neither Rylan nor Kate will not be the same.
The story itself is well-written and has more than enough sexy moments to heat up your e-reader. It was slow moving at times, but it does pick up. My only issue with the story is that is leaves readers with a cliff hanger. Rylan and Kate end up going their own ways towards the end of the story and readers will have to wait for the sequel to see if Kate can learn to trust Rylan again. I was hoping for a happily ever after and instead I got a happy for now kind of ending.
If you love your romance with heat and seduction, then Seven Nights to Surrender is a good pick.
Book Info:

Publication: November 3rd 2015 | Forever | Art of Passion #1
By day, he'll show her a side of Paris not found in any guidebook. By night, he'll introduce her to a passion beyond her wildest dreams. In this sensuous story of indulgence and desire, Jeanette Grey delivers one of the most romantic reads of the year and proves why she is fast becoming a must-read star.
SEVEN NIGHTS TO SURRENDER
Kate arrives in Paris hoping to find inspiration. Instead she finds Rylan. In a swirl of stolen kisses and hot, tangled sheets, Kate is quickly swept away by the sexy stranger, longing to surrender to his expert touch. With Rylan, nothing is forbidden-except the truth.
An American ex-pat worth millions, Rylan never flaunts his fortune. Rather, he guards his identity from everyone, especially women. No strings, no commitments, no complications. But the second his lips taste Kate's soft, sweet skin, everything changes. For the first time, Rylan has found someone to share his every want and need. Yet he knows that secrets stand between them. To keep her, he'll need to confess the truth before it's too late . . . even if doing so could mean losing Kate forever.