In A Simple Hope (Lancaster Crossroads #2) by Rosalind Lauer, An auto accident took the lives of a couple of Rachel King's friends and severely injured her fiance James, bringing sorrow to their small Amish community. Rachel still looks forward to building a life with James, but since losing the ability to walk, he hasn't been the same funny, thoughtful young man she's known and loved. Now she has the chance to spend time with him daily while driving him to the clinic in his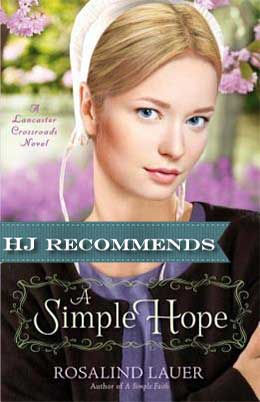 family's buggy, plus James is also undergoing treatments to hopefully get the use of his legs back. But when Rachel is forced to keep a secret for the good of an Englisher girl, will it complicate matters worse? Or is there a valuable lesson to be learned for all involved?
"I wish there was some way I could help you," she said, her voice hoarse with tears. "But you keep closing the door on me James. You've got to stop doing that. Please, let me in."
James Lapp's life changed dramatically when his spinal cord was injured in the auto crash so he's now undergoing physical therapy to eventually walk again. He wants to be a strong husband to Rachel, a man who stands on his own two feet, not bound to a wheelchair. He also wishes he was still able to manage his family's orchard. However, his dat thinks James should just accept what has happened and no longer get medical treatments. His dat's avoidance of Englishers causes conflict when a young woman seeks shelter in a shack on their property. James has to decide if he should be a good samaritan and help, or give in to his dat's wishes and force her to move on.
'Was it wrong to hope that he would walk again? Dat wanted James to give up this hope, but who could know the Almighty's plan for tomorrow and the day after that?'
A Simple Hope is a shining example of the kindness and integrity that are synonymous with the Amish. Though we sometimes consider their lives to be simplistic, there is no denying how hard they work and of course how much a source of strength their faith is to them. Especially in James and Rachel's situation.
This is the first book I've read in the Lancaster Crossroads series (this is book two) but I found it very easy to fall in with the storyline. There was a nice cadence to Rosalind Lauer's writing. I loved the strong family connections that were described and the warmth they all showed each other. Their ability to remain calm and peaceful even when situations escalated was something I admired greatly. That's not such an easy thing for a lot of us to do…
Rachel and James were such a wonderful, loving couple. They definitely had their struggles but they both held on to their faith, or carried each other when one of them felt lost. Rachel had obviously grown a lot since the accident happened and I loved how passionate and steadfast she was in just knowing she and James would remain together. And with the physical and mental struggles James had, I could understand not only his focus on his ability to walk, but also his worries that he wouldn't be the husband Rachel deserved. So heartbreaking. But in the end, things did work out, as they would say, how Gott intended it to be.
If you've ever been interested in reading about the Amish way of life, A Simple Hope would be a great introduction to the culture. Plus, James and Rachel's story is just simply heartwarming and incredibly sweet. Definitely recommended.
Book Info:

Published March 4th 2014 by Ballantine Books
For fans of Beverly Lewis and Cindy Woodsmall, Rosalind Lauer's moving Lancaster Crossroads novel A Simple Hope reveals the ways that faith, love, and charity bring people together in a devoted Amish community.
HOPE SHINES THROUGH
LIGHTING A PATH IN THE DARKNESS
Ever since the accident that confined him to a wheelchair, James Lapp has fought relentlessly to regain his strength. He knows he must be whole and healthy to run his family's orchard and provide for Rachel King, the young woman he plans to marry. But when he defies his father's wishes and seeks treatment outside their close-knit Amish community, James discovers just how long and treacherous the road to recovery will be. Unwilling to saddle a wife with his troubles, James decides he must part with the woman he loves.
Rachel won't give up her dream of being a devoted wife to James, and it breaks her heart to watch him shut her out. Then their lives change forever when a runaway Englisher girl hides in the Lapp orchard. Rachel and James feel they must risk the disapproval of their friends and neighbors to help her. Will the young stranger bring them closer—or will the consequences of a shared secret tear them apart once and for all?
Revealing the wonder of plain, everyday blessings, A Simple Hope burns bright with the power of love to heal even the deepest wounds.