In A Small Town Thanksgiving by Marie Ferrarella, Miguel Rodriguez Senior has just found a trunk full of old journals written by his great great great grandmother about a time when the natives captured her and what she went through, up in his attic. Now Miguel wants to have someone go over and rewrite all the journals into a book for his family to be able to keep and remember. With the help of the sheriff's wife Miguel hires a ghostwriter, and hopefully someone that will take care of his eldest son Miguel junior.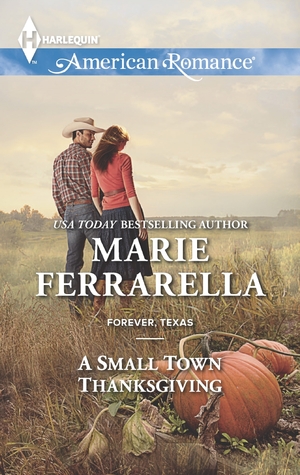 Samantha Monroe started making a living by being a ghostwriter after her husband's death. Not only has it helped her keep the past and loneliness at bay by her continual moving but it has also helped her to earn a good living. Now she has been hired to turn a woman's two-hundred-year-old journals into a memoir.
Mike didn't know what his father was up to, and he is only informed on the day of Samantha's arrival about why she is coming to Forever and that he must go pick her up at the airport. He expects a dour old lady, or someone looking like an old librarian, nothing like the knockout that approaches him, and leaves him speechless, not that he usually talks that much anyway.
Mike tries to talk her out of staying in Forever due to them being a small town and there being no malls, entertainment or night life. Only to have Sam tell him that she is not interested in any of those things, she is only there for a job and that's it.
He soon realizes that being quiet around Sam will not be easy. She likes to talk a lot, and even more to ask questions. On the ride back home he expects her to get distracted or something, but she just continues talking and asking questions even when he doesn't always answer. But the good side about that is that he learns a lot of things about her, things she thought that he was not even paying attention to.
When his younger brother tries to woo Sam, he soon finds himself outmaneuvered by both his father who send him away on things away from the house, and by Mike who does not want his brother near Sam. And even though he does not want any type of relationship and considers himself married to the ranch and the land, he soon finds himself wanting to be close to Sam all the time and falling for her little by little.
When the time comes for Sam to leave Forever Mike will have to decide if being his usual reserved self will bring him contentment, or if fighting for the person he loves is worth the risk to his pride.
A perfectly heartwarming story for set around Thanksgiving, not only does it fit the time for being grateful but also the feeling of hope we sometimes need, don't miss A Small Town Thanksgiving by Marie Ferrarella.
Book Info:

Published November 5th 2013 by Harlequin American Romance (Book 1475) | Series: Forever, Texas
A LOT TO BE THANKFUL FOR
Ghostwriter Samantha Monroe has just arrived in Forever, Texas, to turn a remarkable woman's two-hundred-year-old journals into a personal memoir. The Rodriguez clan welcomes her with open arms…and awakens Sam's fierce yearning to be part of a family. But it's the eldest son—intensely private rancher Mike Rodriguez—who awakens her passion.
Hiring Sam to preserve his great-great-great-grandmother's story for future generations was Mike's inspiration. He just didn't realize how much he'd want her to be part of his family's continuing saga. Delving into the past has made Sam hungry for a future—with Mike. The next move is up to him—if he doesn't make it, the best woman he's ever met just might waltz back out of his life forever!