In Starting From Scratch by Stacy Gail, Sully initially joined the army for the educational benefits…but soon he was a Ranger, leaving his wife Lucy each time he volunteered for another mission. That wasn't the life Lucy envisioned, but each time he left she waited and worried.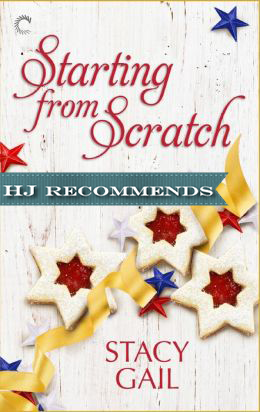 Married young and full of hope, Lucy is devastated when Sully is injured in and IED attack. What makes it even worse is that he has no memory at all of his wife Lucy. Sully convinces Lucy that the best thing for them would be a divorce, something Lucy agrees to with a heavy heart.
Now Sully is back in his hometown, the same town Lucy lives and works in, the same town they fell in love in. Sully still can't remember Lucy, but Lucy can sure remember Sully. Even with no conscious memory of Lucy, Sully is still drawn to her. And Lucy can't say no to her heart when she still loves Sully. Will the magic of Christmas, Lucy's cookies and love prevail?
Stacy Gail gives us a fantastic romance in Starting From Scratch. She gives us real life feelings and the sense of what it is like to have someone you love injured in the line of duty. Lucy and Sully are both characters that will pull you in emotionally. Lucy have strength, loyalty and understanding even if she is deeply hurt. I really admire that she tries to be accepting of how things have turned out and she never talks down about Sully. She is striving to get on with her life without Sully. I really felt for Sully too and what he's going through. It's hard to imagine how that would feel to have something so completely erased from your memory. I would have liked to have had a bit more background on Sully so that I could have a better understanding of who he was and why he did what he did.
I love that Lucy and Sully are people with real life experiences that they are struggling with, ones that can realistically happen. In Starting From Scratch Stacy also gives us a glimpse into what life must be like as the spouse of someone serving in the military. She gives us a whole new appreciation for not only those who serve, but those they leave at home.
From the small town setting to the most appropriate title and the emotional roller coaster throughout Starting From Scratch, this is one romance you will hold close to your heart.
Book Info:

Published November 21st 2013 by Carina Press | Anthology: Gifts of Honor
Christmas is the perfect time to start from scratch
Lieutenant Sully Jax saved his unit during an IED attack, but he couldn't save his marriage. He can't even remember it. Recovered from his injuries, he's come home to the family and friends he knows—and an ex-wife who's a stranger to him.
Lucy Crabtree was heartbroken last Christmas when Sully announced his plan to go on one last tour of duty, and devastated when he asked for a divorce after he awoke in the hospital with no memory of her. She's finally moving on from her hurt and from losing the man she loved more than anything, and her cookie-baking business is taking off just in time for the holidays. But now Sully's back, and she can't deny she still loves him. But how can she trust her heart to someone who breaks it every time she sees him?
Sully might not remember Lucy, but something inside won't let her go. With every bite of her cookies, he finds a new love for Lucy, and he soon realizes he wants to rebuild his life… with her by his side.