A Snowbound Scandal by Jessica Lemmon is the second in her Dallas Billionaire's Club series that features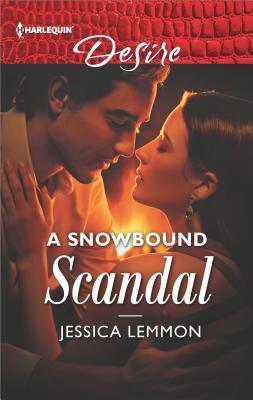 the high powered Ferguson family. As the title implies, this one has a forced proximity theme and is a second chance romance for a pair of lovers who had a summer fling that ended in heartbreak, with the chance to make things right.
Chase Ferguson is the mayor of Dallas. A summer fling ten years earlier has never left his mind, nor the woman whom he sent away. As a man with political ambitions and part of an oil conglomerate family, he couldn't see how he could make things work with Miriam Andrix and her stance against big oil companies, something they could ignore for a few months, but not for a long term relationship. He figured it was best to break things off before they got too involved. He ended up becoming mayor and she now works for a conservation society.
The summer he spent in Montana left an indelible impression on him, and he ended up buying a lakeside mansion where he and Miriam had experienced some fun times. It's now his vacation home, and he's come for a solo Thanksgiving holiday. A chance encounter with Miriam ends up with her at his home, thanksgiving dinner in tow as well as a blizzard that keeps them trapped. It's a chance to hash out what went wrong, and indulge in some steamy no strings attached sex, so long as they both know that it can't lead to anything more – easier said than done. When scandal finds them, will it ruin their chance to try again?
I've always enjoyed Jessica Lemmon's contemporary romances and love that she's writing this series with Harlequin! It's a pleasure getting to know the Ferguson family. These are fairly lighthearted and easy reads, sexy romances that follow tried and true tropes.
Chase's decision to end things abruptly with Miriam broke her heart, though she's been relatively successful at getting over it. Running into Chase in her home town while he's on his vacation is a shock to her system. When he rebuffs her attempt to invite him to Thanksgiving dinner, she brings it to him instead. Chase is a sexy, charming man and he is just as interested in Miriam now as he was back then, though he knows their circumstances are complicated. Still, his attraction to her is undiminished and leads to sexy and satisfying love scenes. It also makes him question whether he'll be able to keep his emotional distance.
Things get complicated when Chase's opposition for the next election digs up information about Miriam and a protest she attended against big oil companies, hoping to use it to cause a scandal for Chase. Chase wants to protect her, even if it means keeping her away from him in order for her to be safe. They have to decide whether being together is worth the risk and fortunately they make the choices that lead to a happy ending. I am looking forward to Chases's sister Stef's book as she has a decidedly antagonistic relationship with his best friend and company security officer Emmett that is sure to make for a fun read!
Book Info:

Publication: Aug 1, 2018 | Harlequin Desire | Dallas Billionaires Club #2
As the snow falls, her touch sets him aflame… "I don't want you to leave."
Texas billionaire Chase Ferguson has one regret: leaving Miriam Andrix to protect her from his public life. When a snowstorm strands her in his mountain mansion, their passion reignites, and it's too hot to resist! But reality–and scandal–arrives with the thaw. Chase turned his back on happiness once. Will he fight for what he truly wants this time?