In Good Luck with That by Kristan Higgins, When three overweight teenage girls formed a bond at Camp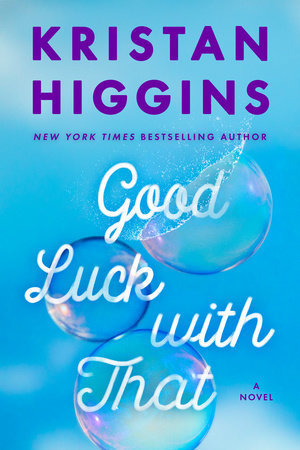 Copperbrook sixteen years ago, they never could have imagined how their lives would change. Or how important their friendship would be to each other. It's when Marley and Georgia find out that Emerson is in the hospital and isn't expected to make it that they realize it's time to overcome their insecurities about their weight and really start to live life. And Emerson gives them a boost by handing over a list they made as teens filled with things they wanted to do. Things that they thought skinny girls took for granted. As Georgia and Marley say goodbye to their troubled friend, they know they should fulfill her last wish and start ticking items off that list.
'In the most innocent way, our eighteen-year-old selves had written a map to loving ourselves. The only thing wrong had been the title. It shouldn't have been "Things to Do When We're Skinny." It should've just been "Things to Do."'
But it turns out the things Marley, Emerson, and Georgia thought were tough as teens are still pretty difficult to accomplish even in their mid-thirties. Especially when it comes to winning their self-esteem issues and sorting out the personal relationships in their lives. Between Georgia's icy cold mother and brother constantly putting her down and the hurt feelings between her and her ex-husband Rafael, she's a nervous wreck. And Marley isn't much better, dealing with the guilt over being the surviving twin after her sister died when they were young. Both women have some challenging obstacles to face down. But with the bond of their friendship to boost them and a couple of people who surprise them with support and acceptance, Marley and Georgia may just earn the happiness Emerson wished for them all along.
"I know you're happy with where you are."
"I wouldn't call it happy. I've accepted it. I try to appreciate the fact that my body works, and I'm healthy. But it's a daily battle, G."
"I know. And I just can't win it."
Good Luck with That by Kristan Higgins was an incredibly emotional journey about friendship, self-image, and finally accepting who we are when we look in the mirror. Something to which I think most women can certainly relate.
'I didn't want looks to matter. I didn't want size to matter. But they did.'
Trigger Warning: Bullying/verbal abuse, fat-shaming, eating disorders, sexual abuse, gun violence. Also, this book might not be for everyone, given your own personal experience with–and knowledge of–obesity. So please, no book bashing or author bashing in the comments. Thanks.
As someone who has struggled my whole life with some of the same issues the three main characters faced, this was both the easiest and most difficult book I've read by Kristan Higgins so far. I think maybe it hit a little too close to home a few times, with her blunt honesty in the three ladies' inner thoughts/monologues and watching them being put down by strangers, coworkers, and yes, even loved ones. It was so, SO sad at times with the struggles Emerson, Georgia, and Marley endured. My heart broke for each of them at some point in the story. But when Marley and Georgia carried on after losing Emerson, taking the list of "Things to Do When We're Skinny" they wrote as teens and putting it into good use, well, that's when things started slowly turning around. And I enjoyed every moment of watching Georgia and Marley finally coming to terms with their size, their families, and their love lives. *sigh*
I loved the relationship between Emerson, Georgia, and Marley. Their conversations were insightful, sometimes hysterical, and sometimes gut-wrenching. The first half or so of the book was a little slower to get through for me, as it seemed like there was a lot of background to cover with all three women. And quite a few characters, too. But after the halfway mark it clicked, and I found myself cheering the remaining two of the trio on. I think it might be tough for some readers to get through Emerson's parts of the book, though, as it's mainly her diary entries, which shows the extreme level of food addiction she had. Not that Marley or Georgia's struggles with weight and food were any less serious. And I do have to admit that Georgia's relationship with her ex-husband Rafael irked me for a good two-thirds of the book. (Talk about a lack of communication!) However, she did redeem herself in a big way at the end so I have to give Georgia kudos.
I wanted to mention that two of my favorite characters were actually secondary cast: Georgia's teenage nephew Mason, and one of Marley's clients, Will. Both guys had their own inner demons they were fighting and I loved that they grew and healed right along with the two women in their lives. Both Will and Mason were oh-so endearing in their own sweet way and I just loved what they added to the story.
Overall, Good Luck with That was another solid work of women's fiction by Kristan Higgins. While it might not be subject matter that will hit the mark with every reader, it made a big impact on this humbled fangirl and I know that Emerson, Marley, and Georgia will remain in my thoughts for a long time to come.
Book Info:

Publication: August 7th 2018 | Berkley |
New York Times bestselling author Kristan Higgins is beloved for her heartfelt novels filled with humor and wisdom. Now, in her newest novel, GOOD LUCK WITH THAT, she tackles an issue every woman deals with: body image and self-acceptance.
Emerson, Georgia, and Marley have been best friends ever since they met at a weight-loss camp as teens. When Emerson tragically passes away, she leaves one final wish for her best friends: to conquer the fears they still carry as adults.
For each of them, that means something different. For Marley, it's coming to terms with the survivor's guilt she's carried around since her twin sister's death, which has left her blind to the real chance for romance in her life. For Georgia, it's about learning to stop trying to live up to her mother's and brother's ridiculous standards, and learning to accept the love her ex-husband has tried to give her.
But as Marley and Georgia grow stronger, the real meaning of Emerson's dying wish becomes truly clear: more than anything, she wanted her friends to love themselves.
A novel of compassion and insight, GOOD LUCK WITH THAT tells the story of two women who learn to embrace themselves just the way they are.