A Very Intimate Takeover by LaQuette is the first book in the Deveraux, Inc. series, and it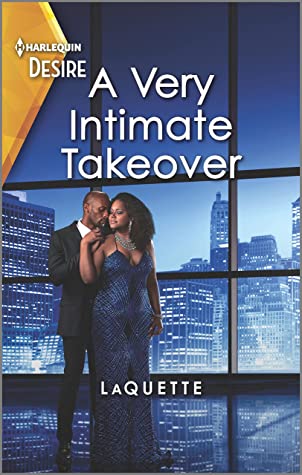 couldn't have a better start. Trey grew up in the middle of a family war. Her father and grandfather had been separated for years when the patriarch decided to disinherit his son when he married a woman of humble origins (Trey's mother). As an adult, Trey has done everything in her power to take over her grandfather's company in revenge. Then something unexpected comes up: her grandfather, Ace, is seriously ill and the second in command at Deveraux Incorporated writes to Deuce, Trey's father, to notify him about it. But it has another motive: to Deuce or his daughter take back their place in the family business. Trey seizes this opportunity to achieve the long-awaited revenge, but she encounters a great obstacle: the oh-so-sexy second in command, Jeremiah Benton, who will protect Ace and his legacy with all his powers, as well as the growing attraction that arises among them.
Trey is a strong, determined, empowered woman who can rival anyone, male or female, in the boardroom. After all, she is a Deveraux from head to toe and carefully trained to take ownership of the company that Deuce so sacrificially built after breaking ties with his father. Also, she has lived hating her grandfather for what he did in the past with her parents, which defines her personality. However, the girl has a big heart and her feelings change when she meets Ace. And Jeremiah, of course.
Jeremiah is a man of humble birth who received the biggest opportunity of his life when, having everything against him, Ace picked him up from the streets and took Jeremiah under his wing. He lives each day grateful to the patriarch of the Deveraux family, whom he considers his father more than his mentor, so he will not allow Trey to hurt Ace. But fate has other plans and he will fall at the feet of the granddaughter of the man to whom Jeremiah owes everything he is now.
This couple is fantastic. Not only do they have chemistry and their sexual attraction is incomparable, but they have a lot in common, especially that sharp sense of humor that makes them unique. Not to mention how clever their interactions are, and their dialogues have that quirky humor that makes reading fun. That mix of distrust, strategy, passion and vulnerability between them is excellent.
Likewise, the secondary characters are very strong and attractive, especially Ace (as a man who will die soon, he's very smart and two steps ahead of his family in every situation for his own good) and Deuce; they both are too proud and stubborn. However, it seemed to me that, except for Amara, we didn't see anything of the characters that will be part of this series, which doesn't give us an idea of ​​what may happen in future books. The plot, as far as secondary characters are concerned, centers on Ace and Deuce's father-son feud, which is the axis of the story itself.
This book is LaQuette's debut in Harlequin Desire; the first one I read about her, by the way. And I hope I could continue reading more (especially from this series), because she's a natural storyteller. The touch of sarcasm that she brings to the dialogues and the high knowledge of the subject she talks about add huge points to the plot. Likewise, it's always a pleasure to have well-described scenarios, emphasizing the setting. Also, I love LaQuette's fashion sense. And pancakes.
Book Info:

Publication: September 28, 2021 | Harlequin Desire | Deveraux, Inc. #1
Falling for the enemy never felt this good in the debut novel of LaQuette's Devereaux Inc. series.
She's ruthless in business,
but vulnerable in his arms.
Trey Devereaux is out to prove her corporate mettle to her skeptical father. When she sees a chance to take control of Devereaux Inc. from her estranged grandfather, she pounces. But Jeremiah Benton, his second-in-command, is fiercely protective of the Devereaux patriarch…and absolutely enticing. The intensity of their attraction overwhelms her defenses, and Trey even finds herself warming to her grandfather under Jeremiah's influence. Can Trey maintain her resolve—or is Jeremiah winning this high-stakes merger? The fate of a billion-dollar Brooklyn legacy lies in the balance…
From Harlequin Desire: A luxurious world of bold encounters and sizzling chemistry.
Love triumphs in this uplifting romance, part of the Devereaux Inc. series:
Book 1: A Very Intimate Takeover
Book 2: Backstage Benefits