In A Walk Along the Beach by Debbie Macomber (7/14), Willa Lakey and her sister Harper have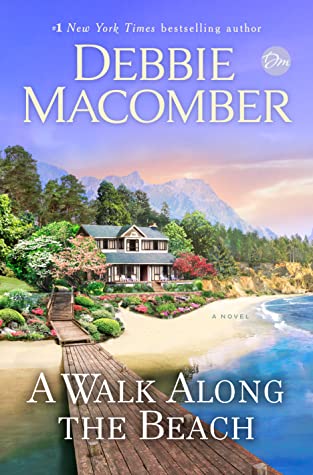 been a team–and unstoppable force, really–since they were kids. After the loss of their beloved mother and then Harper's battle with leukemia as a teenager, Willa has taken on the role of basically sister and mother. She still finds herself worrying about her sister's health and their father's destructive behavior, as well as how her business, a coffee shop in Oceanside called Bean There, is doing. What Willa doesn't have time for is a man in her life. But when Sean O'Malley keeps showing up in her shop everyday, with his lovely smile and quiet charm, she knows she would probably accept an invitation to date him…should he ever make a move.
'I didn't like to think of myself as fragile and looking to protect myself, protect my heart. There was no protection against Sean, though. He was determined to win me over.'
Just when Sean finally gets up the nerve to ask Willa out on a date and they begin to really get to know each other, Willa's family is thrown into turmoil. As a freelance photographer, Sean has to travel abroad for a number of shoots a year and with one coming right up, the timing couldn't be worse. His main concern is for Willa, helping her and the family through their potentially devastating crisis. If only he could be in two places at once. But even if Sean could be there every moment in person, he's not sure he would be much help to the Lakey family. And with Willa a walking bundle of emotions, it has him doing everything he can to support the woman of his dreams from afar.
"What would you like to do?" I was game for anything, as long as it was with Willa.
She met my gaze. "Would you mind a walk along the beach?" she asked.
A walk along the beach. "That sounds perfect."
…If I wasn't half in love with her already, this simple request would have done it.
A Walk Along the Beach was a deeply emotional novel as only Debbie Macomber can write it. With heartbreaking loss, a slow burn romance, and that indomitable small town spirit Macomber is known for, my heart went out to each of the characters she so lovingly crafted.
"You shook my world. You still do. One day, and I pray it will be soon, you'll realize that love is worth the cost."
The first thing that caught my eye about Debbie Macomber's newest book is that beautiful cover. It fits so well with the story, as you would imagine by the book title alone. The beach ended up being a soothing place for our heroine Willa, something I wholeheartedly share with her–like I'm sure many readers do as well. While she was going through so many changes personally and within her family, the beach was Willa's place to go to gather her thoughts and feel more grounded. I thought it was important that Macomber showed how Willa found moments to center herself that way instead of being self-destructive or closed off completely.
I will be honest that Macomber can typically make me shed a tear here and there with her heartfelt stories but A Walk Along the Beach had me ugly crying from about halfway through until the end. It was sad, hopeful, distressing, uplifting…so many emotions mixed all together. I was firmly on mother hen Willa's side for the majority of the book, with only one section where I thought she treated our hero, Sean, rather harshly. It was tough because I could see both of their views on the rift between them but in the end things did work out as well as could be expected. (Can you tell I'm trying very hard not to give any spoilers? lol) Overall it was a lovely cast with a bunch of characters from Cottage by the Sea, which was also set in Oceanside, which meant it felt like a reunion in some ways.
It's always a pleasure to get swept away in a book by Debbie Macomber, but A Walk Along the Beach proved to be an especially moving, tearjerker of a story where faith and the love of family and friends helped heal a fractured heart.
Book Info:

Publication: July 14th 2020 | Ballantine Books |
Two sisters must learn from each other's strengths and trust in the redeeming power of love in a touching new novel from #1 New York Times bestselling author Debbie Macomber.
The Lakey sisters are perfect opposites. After their mother died and their father was lost in grief, Willa had no choice but to raise her sister, Harper, and their brother, Lucas. Then, as an adult, she put her own life on hold to nurse Harper through a terrifying illness. Now that Harper is better and the sisters are living as roommates, Willa has realized her dream of running her own bakery and coffee shop, bringing her special brand of caretaking to the whole Oceanside community.
Harper, on the other hand, is always on the go. Overcoming a terrible illness has given her a new lease on life, and she does not intend to waste it. When Harper announces her plan to summit Mount Rainier, Willa fears she may be pushing herself too far. Harper, for her part, urges Willa to stop worrying and do something outside of her comfort zone—like taking a chance on love with a handsome new customer.
Sean O'Malley is as charming as he is intriguing—a freelance photographer whose assignments take him to the ends of the earth. Soon Willa's falling for him in a way that is both exciting and terrifying. But life has taught Willa to hedge her bets, and she wonders whether the potential heartache is worth the risk.
Life has more challenges in store for them all. But both sisters will discover that even in the darkest moments, family is everything.