One Last Kiss by Jessica Lemmon is the third enjoyable workplace romance in her Kiss and Tell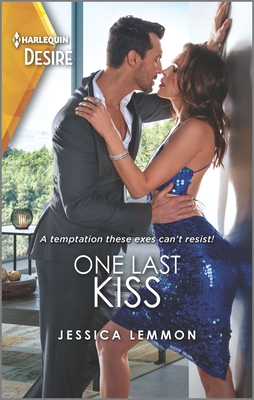 contemporary romance series.
Gia Knox-Cooper and Jason Cooper had a brief marriage that flamed out when they discovered that they just weren't ready for the emotional commitment. Still both working for her family's company, they've managed the rocky road of post divorce with a few ups and downs and can acknowledge that the attraction that brought them together initially still simmers under the surface. A recent one night fling has them both contemplating an affair with a strict 'no this doesn't mean we're getting back together' policy. But as they start to realize how they have both changed and grown, could they consider giving their relationship another chance?
I'm a big fan of second chance romances and I enjoyed how the author puts a realistic frame on Gia and Jason's rekindling of their feelings for one another. A lot of their problems came from not communicating well. Jason thought his job was to protect Gia and he did this in a way that made Gia feel smothered. For Gia, having older brothers and a father who were overprotective made Jason's attempts at the same type of behaviour a disappointing and hurtful experience.
During their time apart though, Gia has learned to express herself better and stand up for herself. Jason has come to realize how his actions hurt her, and how he can be protective of her as a partner while still letting her opinions and talents be recognized. They end up having to work together on a technical problem that forces them to spend time together alone and in doing so, they rekindle their sexual attraction and share some steamy scenes. But Jason has a long way to go to convince Gia that if she gives him a second chance, he won't use his protectiveness as a way to overshadow her.
The heart to heart conversations they have now make them both realize how they have changed for the better and that the mistakes they made the first time around have taught them both how to be better partners. I loved how they work their way back to a loving relationship based on mutual respect and understanding. Jessica Lemmon never disappoints and readers of second chance romances will enjoy this entry in her series!

Book Info:

Publication: July 01, 2020 | Harlequin Desire | Kiss and Tell #3
Their second chance starts with an explosive kiss.
And that's just the beginning.
Gia Knox-Cooper and Jayson Cooper have the "perfect" divorce—they work well together and Jayson remains close with Gia's billionaire family. But this weekend, an intimate family wedding will reveal the secret truth. Because underneath the surface, something else is simmering. And all it takes is one searing-hot kiss to unleash a passion that could incinerate their entire world…