A Wedding at the Italian's Demand by Kim Lawrence: Ivo seemingly has everything. He's sexy, smart,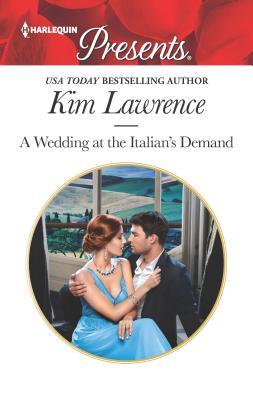 wealthy, determined, and loyal to his family. After being raised by an impossible to please, cold, and remote grandfather, Ivo has learned to hide his emotions and avoid anything that comes close to emotions in relationships. He's content to mostly work and enjoy brief affairs where no one has any expectations of love or commitment.
Flora is an architect. Her career was on the rise when she became the guardian to her sweet nephew. Flora is empathetic, generous, caring, sweet, and loyal to those she cares about. She's always wanted to be a mom, but she feels unprepared and overwhelmed in light of the circumstances.
Ivo is surprised to learn that he has a nephew and he's determined to ensure his nephew has a better upbringing than his own. He has every intention of raising his nephew, and he expects to easily persuade Flora to go along with his plans. Except Flora has a backbone, independence, and stubbornness he didn't expect. Both are also surprised by the immediate and visceral attraction between them.
'I wish to discuss why I am here.'
'I thought that was a state secret, all very "need to know".' The irritable retort came out before she could stop it. 'Sorry!'
'Once more with feeling…?' he suggested drily. 'Has it occurred to you,' he drawled, 'that you're not really cut out for this sort of work?'
Neither make the greatest first impression and both are stressed by their circumstances. In between their spats, they find moments of connection and common ground that pull them together. Flora sees the emotions he's so good at hiding and Ivo sees the passionate side she's unaware of. Convincing Flora to be his temporary fiancé seems like a good idea, but quickly becomes complicated.
'I've been called worse.'
'Of that,' she retorted tartly, 'I have no doubt.'
'So, any other demands?'
'I'd say common courtesy but I'm a realist.'
A Wedding at the Italian's Demand is a tension-fueled slow burn. Kim Lawrence builds the anticipation with banter, conflict, surprises, and heat. Ms. Lawrence created complicated characters and beautiful settings. Fans of Abby Green and Sharon Kendrick will enjoy A Wedding at the Italian's Demand.
Book Info:

Publication: February 19th 2019 | Harlequin Presents |
"Come back to Italy with me…
…as my fiancée."
Ivo Greco is determined to claim his orphaned nephew—the infant who will inherit the Greco fortune. To do so, he needs to convince the baby's legal guardian, fiery Flora Henderson, to wear his ring. But whisking Flora to Tuscany as his fake fiancée comes with a complication…their undeniable chemistry! A permanent marriage was never in the cards for coolheaded Ivo—until now!
Escape to Italy with this engagement of convenience!