In California Girls by Susan Mallery, They say that sisters share a special bond and that whatever affects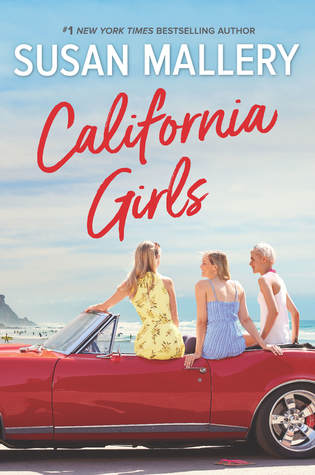 one, affects them all. In an odd twist of fate, that couldn't be more true for sisters Finola, Zennie and Ali, seeing how they all find their romantic relationships suddenly ending during the same week. From Ali's broken engagement where her fiance didn't even have the nerve to tell her the news, to Zennie's casual-for-her-not-for-him relationship, to Finola's husband confessing he cheated on her, the sisters have their work cut out for them if they're to heal and move on.
"I'm the injured party."
"You are if you think you are… But being the injured party is an easy trap. If you spend too much time feeling sorry for yourself, you never act." She looked at Finola. "It took me until I was fifty to figure that out. You might want to learn the lesson a little sooner."
But moving on is easier said than done. Ali is still reeling over her fiance's lack of care and wonders if they were ever truly in love like she thought. Especially once she realizes the connection that's growing with his brother, the man who stood up and helped Ali through her toughest days. And even Zennie feels a bit blindsided by Clark breaking things off, as she's usually the one to call it quits in her dating life. But with her decision to become a surrogate for her best friend, Zennie has bigger worries on her mind as her emotions race and her body becomes something she doesn't recognize. Then there's Finola's very public breakup, which is both humiliating and life-changing. And she's not sure if she wants her husband to come crawling back or if she wants him to be miserable after he realizes the consequences of his actions.
'She'd been forced to grow as a person. The process had sucked, but she hoped she was better than she had been. Less selfish, more aware of the people she loved.'
Susan Mallery proved once again how on the mark her writing is with this relatable and funny yet poignant work of women's fiction. Filled with the complexities of family and personal relationships, California Girls explored issues that will resonate with every reader while it ultimately tugs at your heartstrings.
'She had no idea what she would do, but she was determined to be stronger than she had been. Honed by fire or whatever the phrase was. Because she was so tired of feeling broken.'
I'm always surprised when I read a new Susan Mallery book with how she keeps her characters so down to earth while putting them through their paces–and with how she manages to make them inherently likable. Even the characters I don't want to like. (I'm lookin' at you, Finola and Mary Jo!) California Girls took me on an emotional journey along with sisters Finola, Zennie and Ali, while they all recovered from a breakup. I thought it was interesting the way Mallery showed how each of them, who were at different stages in their lives, processed their emotions over their romances ending. I'm happy to say all three sisters showed personal growth and positive changes in their lives in a way that was realistic and heartwarming.
As with any standalone that has multiple POVs, there was a lot of information in the first third or so of the book so it took me a while to find my rhythm with it. But once I got a good grasp on the dynamics between the sisters, between them and their mother Mary Jo, and with each of their romantic relationships, then I flew through the book. And I wasn't kidding about not wanting to like certain people. Finola, the oldest sister, did finally wear me down but boy did she come off as self-absorbed and whiny for a big chunk of the story. Middle sister Zennie was a pretty cool heroine who I thought was quite selfless in becoming a surrogate–even if she didn't necessarily realize how tough it would be.
And Ali…I probably related the most to her, although I think some readers might not like her mousey ways. She wasn't exactly a pushover but Ali didn't stand up for herself at first–although she sure did by the end of the story. (Yay!!) The other thing some might take issue with is how Ali slowly falls for her ex-fiance's brother. I know, It's kind of a weird, tangled web. But the way it played out, and the bond they formed together, I could really see it happening so I was okay with that part of the story.
My go-to author for heartfelt stories with the perfect amount of humor and humility woven in, Susan Mallery's carefully crafted novels are sure to please. Whether you're already a fan or not, I think California Girls has the type of storyline that will stick with you long after you finish reading.
Book Info:

Publication: February 26th 2019 | MIRA |
The California sunshine's not quite so bright for three sisters who get dumped in the same week…
Finola, a popular LA morning show host, is famously upbeat until she's blindsided on live TV by news that her husband is sleeping with a young pop sensation who has set their affair to music. While avoiding the tabloids and pretending she's just fine, she's crumbling inside, desperate for him to come to his senses and for life to go back to normal.
Zennie's breakup is no big loss. Although the world insists she pair up, she'd rather be surfing. So agreeing to be the surrogate for her best friend is a no-brainer—after all, she has an available womb and no other attachments to worry about. Except…when everyone else, including her big sister, thinks she's making a huge mistake, being pregnant is a lot lonelier—and more complicated—than she imagined.
Never the tallest, thinnest or prettiest sister, Ali is used to being overlooked, but when her fiancé sends his disapproving brother to call off the wedding, it's a new low. And yet Daniel continues to turn up "for support," making Ali wonder if maybe—for once—someone sees her in a way no one ever has.
But side by side by side, these sisters will start over and rebuild their lives with all the affection, charm and laugh-out-loud humor that is classic Susan Mallery.