In A Wedding for Christmas (Twilight, Texas #7) by Lori Wilde,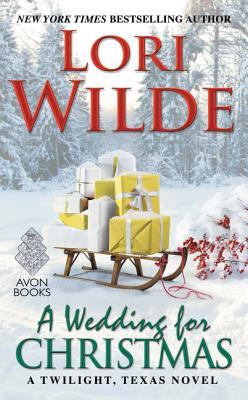 Ryder Southerland left his hometown of Twilight, Texas, behind him more than a decade ago with no intention of ever going back. After a successful stint in the Army and now with a bodyguard job protecting high-profile clientele, he's more than okay staying in L.A. for a while. But all it takes is being in the presence of Katie Cheek, the former Twilight ugly duckling who's grown into a beautiful woman, and Ryder longs for things he probably can't have. A trip back to his father's ranch at Christmas is the last thing he wants. But he's got to settle things with his past so he can hopefully have a future with Katie.
'He had two choices. Stay and see this through. Or bow out. This was his opportunity to leave Twilight, and his father, and his past behind forever. All he had to do was go. But that meant letting go of his friendship with Joe. That also meant leaving Katie behind.'
Katie was supposed to go to L.A. to get out of her funk and figure out her future, away from the festive holiday celebrations perpetually going on in Twilight. A hot and steamy encounter with her teenage crush Ryder leaves her unsettled but determined to become the self-assured woman she's been hiding inside her for so long. Problem is, though, that Katie's brother Joe is getting married on Christmas Eve and not only is she the maid of honor, Ryder has been invited to be the best man. She's not ready for the sparks that continue to fly when they face each other again. She wonders if their past and their tangled up lives are too complicated to make a relationship work? And will she have to give up her newfound independence to be with the sexy alpha male of her dreams?
'Problem was, because of that bad-boy image, he thought he wasn't good enough for her… He was a good man, a decorated soldier. He'd given so much for his country. He deserved a little happiness. With her? Yes, please.'
Oh the feels–and the fun!–this holiday story brought about. A Wedding for Christmas sent readers back to Twilight, Texas, a town who knows how celebrate the holidays. And a town that definitely knows all about romance. So good girl Katie and former bad boy Ryder didn't stand a chance to deny their feelings when they were reunited after more than a decade apart.
"Deny it all you want, Katie Cheek. But you want me. You want me bad." He grinned, got to his feet, and sauntered away all long-legged and loose-hipped.
Gabi leaned over and whispered, "You do kind of want him pretty bad. There's no shame in going after him."
"Over, dead, body, my," Katie said, alarmed at how her jumbled thoughts came out of her mouth.
"Exactly," Gabi said. "He's reduced you to talking gibberish."
"I'm screwed, aren't I?"
Lori Wilde is one of my go-to authors when I want heartfelt small town romance. And she paired up everything I love about her contemporary stories with just the right amount of holiday cheer in A Wedding for Christmas. There was truly so much to love about this book. Not only was this a 'brother's best friend' trope where Ryder was best friends with Katie's older brother Joe. But this was about unrequited love, with the two of them having had crushes on each other since their teens. And this was of course *also* about the bad boy with the golden heart getting the good girl. How can it not be great?
Right away I have to say that Ryder and Katie had some of the sexiest, most fun and playful bantering and teasing I've read in a while and it made this book an absolute joy. That Texas charm came shining through in their conversations and their interactions. I loved watching Katie come into her own as a woman and let out her sassy attitude. She knew what she wanted and went after it. Which was mainly Ryder, but Katie also started a new career and bought her own home. He went through some big changes as well, dealing with his painful childhood and facing the town that wasn't exactly warm or supportive of him years ago. I did really like that Ryder was a loyal guy, and that deep down he knew he had to change or he would be facing a lonely future. He knew it was Katie he needed in his life and it was great to see him finally accept that he was good enough to deserve her love. *dreamy sigh*
Whether you're a longtime fan of the Twilight, Texas, series or if you're new to town, I think romance readers will have an absolute blast with this newest release. The spirit of the local townspeople and the strength of Ryder and Katie's love will be enough to warm anyone's heart.
Book Info:

Publication: Published October 25th 2016 | Avon | Twilight, Texas #7
The whole town is ready for the holidays: The Cookie Club is baking, Main Street glitters with lights, the carolers sing . . .There's even a Christmas wedding.
When bodyguard Ryder Southerland sees his best friend's sister Katie at an L.A. Christmas party, he mistakes the slinky blonde for a celebrity stalker and tackles her. Then they tackle each other . . . at his place. The next morning, Katie's gone, and Ryder tells himself it's for the best. It isn't. Now, one Christmas later, Ryder's falling for the woman he's been missing in the town he hasn't missed at all . . .
Katie Cheek's outgrown the romantic fantasies she had about Ryder when she was fifteen. Katie's packed their hot night away in a box labeled "fling"—or tried to. But Twilight's bad boy is the best man in her brother's wedding. And up-close and personal, Ryder's impossible to ignore. So Katie can either go into hiding—or surrender to Christmas magic.