Abducted by Dana Mentink: This has to be one of the most suspenseful and enjoyable reads I have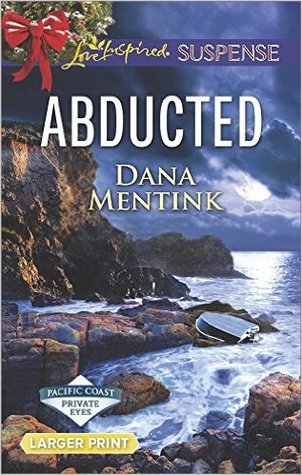 had this month! Dana Mentink truly weaves a story that has the reader guessing from one minute, one second, to the next!
The main characters, Sarah and Dominic, were sweethearts in high school, but have not seen each other in several years; they are reunited in Mexico of all places, where she is working as a nurse in a mission clinic, and he arrives at the clinic trying to hide and save a man who was just beaten by gang members. Dominic himself is quite badly hurt, and Sarah must care for him and the man he rescued. Unfortunately, the gang members locate the clinic, setting into motion a story filled with twists and turns. Dominic and Sarah escape the gang members, only to be kidnapped and taken to the gang's leader, a vicious drug lord. They are intercepted en route, and kidnapped AGAIN! This time they are taken back to the US to an island, which turns out to be owned by another evil criminal. The evil man on the island is also searching for the man Dominic rescued, who is wanted by the drug lord as well.
Dominic and Sarah must put their past behind them as they work together to stay alive and to keep Del alive, the man who is wanted by both devious criminals. Dominic and Sarah must figure out who can be trusted, and must find a way to get off the island! This is a story I could not put down! I highly recommend!
Book Info:

Publication: November 8, 2016 | Harlequin Love Inspired | Pacific Coast Private Eyes #3
When the high school sweetheart she never expected to see again bursts through the door of her medical mission clinic, nurse Sarah Gallagher can't hold back her shock. But Dominic Jett isn't there to catch up. He's trying to save a life, and the thugs on his tail will stop at nothing to catch him. Now abducted and imprisoned on a remote island, Sarah and Jett become pawns in a tug-of-war between a powerful drug lord and a devious madman. And their only chance for survival is working together to find the valuable painting the dangerous men are searching for. But with someone trying to kill them at every turn, can they locate it in time to keep their reunion from turning fatal?