A Week to be Wild by J.C. Harroway is one of the first romances to be released as part of Harlequin's new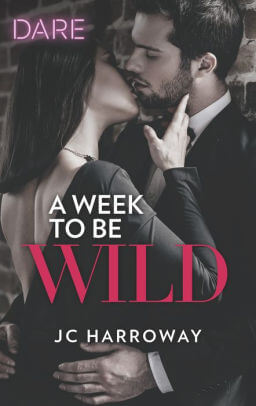 erotic romance Dare imprint. Set in London, England, it's the story of two people bound by business – and pleasure.
Libby Noble runs her own small marketing firm in New York City but a chance to open up her company to new international clients has her in London, England presenting at a business seminar. There she meets Alex Lancaster, billionaire businessman and head of a global IT company. He's the sponsor of the event and personally responsible for the invitation Libby received to speak. Alex spends a good portion of his time on more philanthropic pursuits, and it's her work with the small US charity Kids Count that drew her to his attention.
After losing a sister to epilepsy, Alex is determined to help intellectually challenged teens by offering them outdoor activity adventures through his charity Able-Active. His goal is to entice Libby to take the charity on as a client by showing her some of the activities he wants to promote. What he doesn't expect is the intense attraction he feels for her upon meeting in person – and the feeling is mutual. Libby is only going to be in London for a week, and Alex proposes a joint venture in the bedroom and the boardroom. Libby agrees, but only if she gets to be the one in control. She lost a fiancé in a tragic accident four years ago and since then has kept her emotions in check. Their steamy encounters draw them together but when Alex wants more, will Libby be willing to risk her heart again?
I love a good hero in pursuit story! Alex's passion for his charity makes him a very likable character and while his wealth and business acumen make him an alpha male in business, he's quite willing to let Libby have control in the bedroom if it means she'll spent the time with him. Alex isn't submissive, but he is willing to let Libby call the shots and some of the sex scenes in this one are, whoa, my kindle is on fire, hot! But Alex also wants to know everything about Libby, not just what pleases her sexually and is constantly working to get her to let down her guard and let him in.
Libby is understandably wary of getting involved in another relationship after the death of her fiance. He was also like Alex in pursuing an active lifestyle and Alex pushes Libby's comfort zone by having her try the activities he wants to feature for kids in his charity program, like jet boating and hot air balloon rides – things she'd normally stay far away from. And with her fear of heights, traveling with Alex in his helicopter is a real test. Their week together is spent learning what makes each other tick – but Libby will soon have to decide if she's willing to pursue more with Alex. Fortunately after a few bumps in the road we get a well earned happy ending for this couple. A Week to be Wild lives up to its title!
Book Info:

Publication: Feb 01, 2018 | Harlequin Dare |
Libby Noble is done with men who live on the edge, but sexy British billionaire Alex coaxes her out of her comfort zone—professionally and very personally! She'll agree to play his game…but only by her rules!