A Whisper of Disgrace by Sharon Kendrick: Rosa Corretti has had a bad day. Her mother announced to a room full of people that the man she thought was her father was actually her uncle. Shamed and heartbroken, Rosa flees to the Ivory coast and up a pole–literally. The good girl who has always done what her family expected gets drunk on champagne and enters a pole dancing contest, where she catches the eye of every man in the room,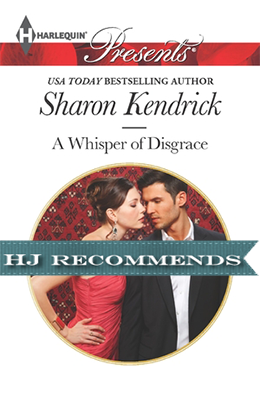 including Kulal Al-Dimashqi. Kulal thinks Rosa is just what he needs to find a little relief from his impending marriage to a suitable woman of similar standing. He rethinks his assumption when he realizes just how drunk Rosa is, but since she can't remember where she's staying, he's forced to take her to his hotel.
"You look to me like someone in urgent need of rescuing."
The next day, Kulal is summoned back to the desert kingdom where his brother is king and told that there are major consequences for his night with Rosa. Kulal's fiancée has refused to marry him, and now he may have the drawn the ire of the powerful Corretti family. Kulal has no choice but to offer Rosa marriage to appease her family and preserve the reputation of his country.
Rosa isn't keen to go from being imprisoned under her overprotective brothers and family to being imprisoned to Kulal's wims, but Kulal's offer would keep her from having to return to Sicily.
"If she was going to have to endure the ignominy of an arranged marriage, then why shouldn't she arrange it herself? Especially as this particular marriage had a get out clause. She wanted independence, and Kulal had offered it to her. He had offered her a generous payout, too. For the first time in her life, she would be independent."
Neither Rosa nor Kulal expect the passion that ignites within the bonds of their marriage, a passion that mocks the impending expiration date on their union. Is the passion they've found with each other worth extending their marriage contract to forever?
I loved reading the story of Rosa's sister, Lia, A Façade to Shatter by Lynn Raye Harris, so I was excited to get my hands on another book featuring a Corretti woman, and A Whisper of Disgrace by Sharon Kendrick didn't disappoint. Rosa was such a relatable character. I could feel how lost she felt when she was told the truth about her parentage. It was easy to identify with the identity crisis she had over this revelation, how betrayed she felt. But what I liked the most about her was that she was determined to break out of the mold her family had cast her in and start doing things for herself. Kulal was an equally complex character. I loved that he wasn't just a playboy looking for a good time, but had layers to his personality. I loved how honest Kulal and Rosa were with each other from the start, and how each one of them was willing to stand their ground to achieve what they wanted.
When two characters fit together this well, it's up to the author to keep us guessing and interested in the story. Sharon Kendrick does a great job putting in the right plot twists to keep you turning the pages to see how everything gets resolved. The external and internal conflicts are so strong and so complementary to the plot that the reader doesn't have to suspend reality and common sense in order to go along with the story.
I would recommend A Whisper of Disgrace to anyone looking for a quick read about two strong willed individuals with painful pasts who enter into a marriage of convenience and get a lot more than they bargained for.
Book Info:

  HJ Recommends
Published August 20th 2013 by Harlequin Presents (Book 3170)
Impulsive and irresistible: Can a Corretti tame a sheikh?
Rosa Corretti cannot forget the one unguarded night she spent with Kulal, when she buried her disgrace beneath the seductive sighs of passion. Now this hard, demanding sheikh wants to control her!
Rosa has been too good for too long and will not jump from one gilded cage to another-no matter how brightly it glitters!
But Kulal has centuries of the desert in his blood and the more Rosa resists, the hotter it fires in his veins. As their passion burns through the tethers around his heart, will this arrogant sheikh accept this Corretti?