In The Spanish Acquisition by Nora Snowdon, Lily Scott is on vacation in the Dominican Republic thanks to her aunt Lilith who gave her an all expense paid trip she had. Since Lily is a struggling art student from New York, she does not have the money for trips or luxuries, so she is grateful for the gift from her aunt and takes her advise on pampering herself while on vacation. What she doesn't expect is to meet the man of her dreams while she is visiting the stables, what is even more surprising is that he is equally attracted to her and asks her to dinner.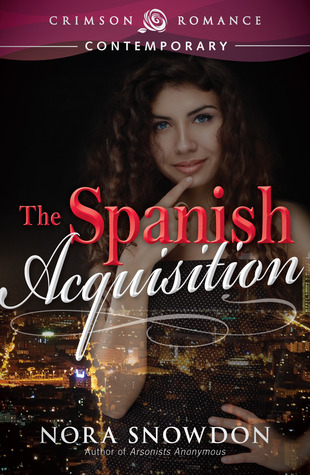 Carlos adores the woman that he meets while at the resort, she is sweet and so very hot. He cannot help wanting to be with her at all times. When he learned her name for some reason the name seamed really familiar to him, until he remembered Lilith Scott is the name of a woman that fell at an art show and did not sue them. In thanks his assistant gave her the all expense trip to the resort.
But when his assistant tells him that a lawyer has filed a lawsuit against them for Lilith's fall, he cannot help but think that Lily is a scheming lying woman. Unfortunately in his anger he insults her and leaves her immediately. What he does not expect is that he cannot forget the sweet art student he met, and after trying to destroy her and forget about her he soon learns that he cannot get her out of his mind.
Now Carlos will have to work hard to find out the truth and find a way to fix the mistakes he made against Lily. For his love for her was not temporary or something that he could easily throw away, but getting her to trust him again will not be easy.
For a sweet, hot and fast read don't miss The Spanish Acquisition by Nora Snowdon.
Book Info:

December 10th 2012 by Crimson Romance
When a multibillionaire business mogul from Barcelona meets a struggling art student from New York in the Dominican Republic, sparks fly. But can they overcome their differences and an odd case of mistaken identity?
On vacation in the Dominican Republic, Lily Scott meets the man of her dreams, and then some. She's astounded when he seems equally attracted to her. But after a whirlwind affair, she is devastated when he abruptly insults her and leaves.
Carlos adores Lily, the sweet, unassuming artist he meets on vacation, but when his personal assistant informs him that she's suing his company, he exacts revenge and then tries to move on. But can he?