A Will, A Wish, A Wedding by Kate Hardy: Hugo is truly surprised at the reading of his great aunt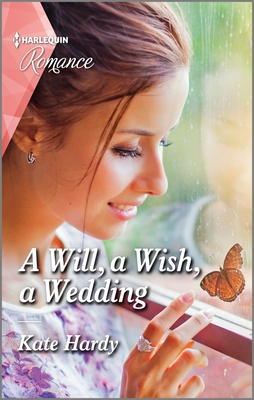 Rosemary's will. Her house has been left to Dr. Alice Walters who he has never met before. Is this woman another gold digger who has preyed on his great aunt? The main stipulation in this situation is Hugo use his architect skills to cover the home into a butterfly center.
Alice is a butterfly expert of some note and worked with Rosemary at great length before her death on plans for the the sanctuary to be used to preserve many butterfly species in a special climate and to help teach others of their place in nature along with their great beauty.
Hugo and Alice are off to a rocky start of the project, but after some field trips, Hugo learns to appreciate butterflies and Alice has a whole new respect for architecture. They both want to keep their relationship professional, but it is hard when sparks start to fly.
I seldom give 5 star ratings, but this lovely tale certainly deserves it. The glorious descriptions of the beautiful butterflies lifted my spirits immensely. I am in awe of the many hours the author must have spent researching butterflies and architecture. After reading this novel, I long to go on my own butterfly field trip.
The slow building of the love story between Hugo and Alice is just perfect. They both have to overcome baggage from the past.
I love stories set in England. I always learn new tidbits and words. This time I learned the word "oik". It means an uncouth or obnoxious person.

I highly recommend this charming book. You will be uplifted by nature and a sweet romance.
Book Info:

Publication: September 8, 2020 | Harlequin Romance |
Will an unexpected legacy…
…lead to wedding bells?
Widowed architect Hugo Grey is stunned. His late great-aunt has bequeathed her house to Alice Walters—a complete stranger!—with the stipulation that Alice must recruit Hugo's services to help convert the house into a butterfly center. Clearly his great-aunt knew something he doesn't, because he and Alice clash over everything, which makes his attraction to the captivatingly feisty and beguiling butterfly expert even harder to ignore…