An Accidental Family is the debut title from Ami Weaver. After reading it, I find myself greatly looking forward to seeing her writing as she becomes more seasoned.
Lainey came from a privileged family, but after the breakup of a disastrous marriage approved by her parents, she decides she will make her own decisions from then on. She opens a flower shop, and lives in a modest apartment in the same building. We find Lainey reeling when she finds out she's pregnant after a one-night hookup with the quarterback of her high school at her reunion. For many reasons which are revealed throughout the book, she's left to raise the baby on her own.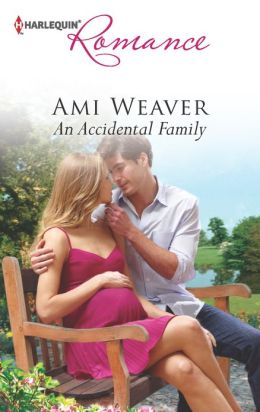 Facing single parenthood and a business that's just barely staying afloat, she struggles when obstacles arise on what seems like a daily basis. The ancient refrigerator breaks down and will need to be replaced sooner rather than later. Her car is on it's last legs. The biggest rock in her path? Her parents continue to try and run her life. Whether it's fiddling with her business or pushing for a reconciliation with her ex – they just don't get it.
She has few constant joys in her life – one is her business partner, Beth; and the other is her friendship with Rose – an older handicapped woman. She visits with Rose often, and she seems like the family she never had. The one that cares about her well-being and listens to her problems.
Enter Rose's Grandson Ben Lawless. A firefighter on medical leave after a tragedy that left his best friend dead, leaving behind his wife and children. Ben can't help but blame himself, so he leaves the city to take care of his ailing Grandmother. Not that she ever told him she needed help, mind you. She's just as determined to take care of herself as Lainey is.
Ben's heard of the Keeler's, of course. They were the family that had it all. Ben was in school with Lainey's brother and only knew of Lainey as she was four years behind him. He soon finds out that she's not at all as he imagined. She's not a spoiled woman, visiting an old lady as some sort of charity work. No, she needs Rose just as much as Rose needs her.
When Lainey finds herself without a home, the older woman offers her a rental property which was recently vacated. As Ben is currently doing some fix-up on the house, they'll have to spend a bit of time together. Lainey and Ben discover that they trust each other, even if they don't trust their attraction to one another.
Demons are slain and Ogres faced as they navigate the waters towards each other. Not that it's a fairy tale, but there's definitely a happily ever after.
I found myself wanting to see the Keeler's come to a brutal demise as they constantly meddled in their daughter's life – never caring about her wants or needs. I didn't ever soften towards them even if they relent a bit towards the end of the book. I take that as a sign that I sympathized with Lainey – which means her pain was well-written.
Ben's issues also felt real, and I like how they were mostly resolved near the end. He'll always live with the pain of losing his best friend, but allowed himself to be let off the hook as far as the guilt is concerned.
Quite angsty, but sweet and charming – I think you *might* hate Lainey's family as well, but don't let that put you off. I recommend An Accidental Family for it's feel-good ending.
Book Info:
Publication Date: April 2, 2013 | Series: Harlequin Romance (Book 4374)
Buy: A | BN |
A 
bump
 in the road…
The moment the stick turns pink Lainey Keeler's life is turned upside down. She's still aching from past hurts, and single parenthood wasn't planned, but, marveling at the tiny life fluttering inside her, Lainey knows she'll do anything for this baby—on her own.
Firefighter Ben Lawless is tormented by memories of the friend he couldn't save, and a pretty pregnant woman living on his land is an unwelcome distraction. Still, as Lainey's determination and spirit tempt him out of the darkness, he wonders whether he can have the family he's convinced himself he doesn't deserve….