In April Showers by Holly Jacobs, Lily Paul has finally found a place of her own in Valley Ridge, New York after years of searching for somewhere to belong. And some place that felt like home. Her nursing job brought her here temporarily to take care of a co-worker's sister who was struggling with cancer, but after making several close friends, Lily decided to stay in the small town. She befriended the local diner owner, Hank, and is now living in an efficiency apartment on his property and helping him out with the diner. He's become like a grandfather to her, the kind of guy she wished she had around when she was growing up. She had a tough childhood but has never been able to share the details with any of her friends. So instead she puts on a happy face every day in the hopes that it will keep her focused and upbeat.
"There was the world the way you wanted it, and the world the way it was. Sometimes, if you were really fortunate, the way you wanted it to be would match the way it was."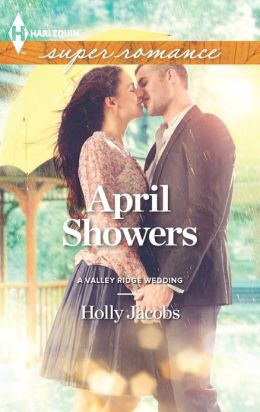 Hank has regaled her with stories of his grandson, Sebastian Bennington, since she arrived in Valley Ridge. Lily waits expectantly to meet him when he arrives for his childhood friend Colton's wedding. She wants to see if Sebastian lives up to the stories, but also needs to get his help in convincing Hank to see a doctor about the confusion and memory loss he's suffered lately. The man she meets when he arrives in town and the boy she was told about are two very different people. She definitely doesn't have an ally in him. She sees an angry man who is hurting both emotionally and physically. She remains positive and focuses on helping Hank, hoping Sebastian will come around once he sees the changes in his grandfather. She finds that she's able to help Sebastian begin to move past his limitations from his injury which helps his attitude improve as well. She gets to know him better once he's dealing with the pain, and feels more comfortable around him. He starts confiding in her about his accident and she's scared by how much she looks forward to seeing him everyday. She doesn't believe she'll ever find lasting love but can't deny her attraction to Sebastian.
"And when he leaned down to kiss her, there was no question in his mind that she was receptive, just as there was no question in his mind that he had never wanted anything as much as he wanted this moment."
Sebastian grew up in Valley Ridge with his grandfather Hank after his mom took off. Now he's back to attend his friend Colton's wedding and to figure out what to do next with his life. He was a Lieutenant in the Marines, serving in Afghanistan until a short while ago. However, an injury has now taken his career away. He figures once the wedding is done he'll take off and start a new chapter. Sebastian can't wait to see his grandfather and friends in town. He needs some normalcy and to see that some things never change, especially after his struggles during the past several months. He was not expecting to find Lily infiltrating every aspect of Hank's life and is furious with her. He thinks she is trying to take advantage of a caring, elderly man and is looking to take over his business and home. He directs his pent up anger and frustration at Lily who, much to his surprise, stands her ground. Her cheerfulness annoys him at first but he soon realizes she has faced adversity in her life as well and chooses to look on the positive side. As they become closer, he only wishes she will confide in him what happened in her past. Sebastian is amazed by all that Lily does for Hank and the rest of the town. He knows he is falling for her and that she isn't looking for anything long term, but he hopes maybe he can slowly change her mind.
Holly Jacobs has written another touching love story set in the beautiful town of Valley Ridge. I think Lily and Sebastian are kindred spirits. They both had troubling childhoods which they endured with as much strength as they could muster. And although they each deal with their personal struggles differently, they are ultimately hoping for the same thing: to find their place in the world and have it filled with the love of friends and family. This is a truly heartwarming tale filled with strong emotions and a sense of community. I enjoyed all of the secondary characters as well and look forward to reading book three: A Walk Down The Aisle, which is Sophie and Colton's story.
If you enjoy clean romance with a ending worthy of happy tears, I definitely recommend reading this book.
Book Info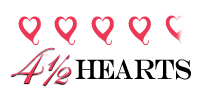 Publication Date: May 7, 2013 | Series: Harlequin Superromance (Book 1852)
Rainbows don't come without rain
The world you want isn't always how the world is. Former marine Sebastian Bennington discovers that upon his return to Valley Ridge for a friend's wedding. Even his grandfather's health isn't what he's expecting. Nor is the interference from his grandfather's young business partner, Lily Paul.
Even more aggravating, Lily seems to know everything about Sebastian, thanks to his grandfather. But Sebastian can't get her to open up about anything. Is she using all that merry sunshine to hide something deeper and darker? He's determined to find out, as long as their crazy attraction for each other doesn't get in the way….