Accidental Groom by Dana Mason: Mac loves his job as a morning radio show host, although he could do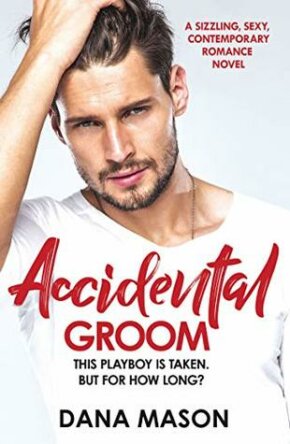 without some of the public scrutiny and being recognized while in public. He's confident, sexy, smooth, charming, and determined to remain single. He's never been in love nor does he ever want to fall in love. He's clear and up-front with women about he offers and it's not commitment.
Kelley is a former professional dancer who is trying to finish her college degree while also teaching dance. She wants to own a dance studio one day and is working to achieve her new dream. She's smart, loyal, generous, and just trying to keep it all together.
Mac is captivated by a beautiful woman one day and he's surprised when he runs into her again. Before long they go from agreeing to a lunch date to a weekend trip to waking up married. While there's a definite attraction, they barely know each other as their relationship has accelerated at warp speed.
She slips her laptop into her bag, along with the notepad and pen. With a heavy sigh, she glances back at me. "Just lunch, huh?"
"That's all. You can even pick the place."
"Well, aren't you sweet?" she says, her voice dripping with sarcasm.
They enjoy each other's company, but neither are quite sure what they should do next. Neither of them is exactly ready for marriage, but Mac is oddly reluctant to take that step to let Kelley go and go their separate ways. As they start to get to know each other post-wedding, they provide support, comfort, and a lack of judgment over their respective pasts and baggage.
He grins and side-eyes me. "What are you thanking me for?"
"Just for being you."
"Give it a couple more weeks, and you'll be singing a different tune," he teases.
Accidental Groom is entertaining, sexy, and a rollercoaster. Dana Mason developed complicated characters and pasts while developing a relationship from marriage to dating. Ms. Mason provided conflict, surprises, heat, banter, and interesting secondary characters. Fans of Tawna Fenske and Terri Osburn will enjoy Accidental Groom.
Book Info:

Publication: April 2nd 2019 | Bookouture | Accidental Love #1
My head is pounding. Yawning, I rub my hands over my face, and I'm surprised by the shiny gold band on my left ring finger. What the…
I'm Mac.
But you know that, right?
You probably even recognize the sound of my voice…
Because I'm the radio host that wakes up most of Sacramento every morning. The DJ that most of the women in Sacramento lust after.
Everyone knows me, knows my reputation. Ladies' man, bad boy, eternally single commitment-phobe.
I have my own reasons for needing to stay single, my own demons to battle with. Scars that don't show, but that stop me from getting close to anyone.
Except, after one hell of a drunken accident, I've woken up married. To a gorgeous green-eyed girl, Kelley, who I only met yesterday in a coffee shop.
A killer hangover later, it turns out that this playboy is off the market. The only question is…for how long? Because no girl has ever been able to change my ways – and who says that Kelley is going to be any different?
This is a full-length, standalone romance with some hot-under-the-collar action, no cheating and a guaranteed HEA. For fans of R.S. Grey, Whitney G. and Vi Keeland, Accidental Groom features a sexy af alpha and a steamy will-they-wont-they love story that will have you completely hooked.