Act Your Age Eve Brown by Talia Hibbert: As both a stand alone and a gorgeous ending to the Brown girls series, Eve,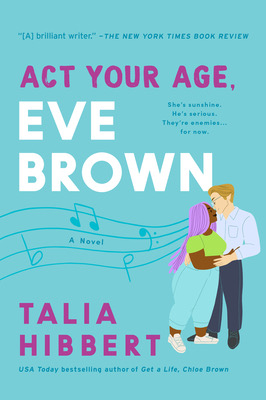 youngest of the three sisters is a story you will literally chew through in moments, and like the other two, you will likely only come up for air when well built character frustrations get too much. After her most recent entrepreneurial wedding planning endeavour fails, Eve, at 26, is back to square one. And within the first few pages, she is given the tough love talk by her parents, and much like a frozen fish slap to the face, it certainly wasn't what she wanted, however, given the outcomes, it was definitely what she needed. After bailing via full flight mode, Eve finds herself miles away from home in a small country town in England, and as fate would have it with a job opportunity literally by her first stop.
The catch is, she has to fudge her way through an interview completely unprepared and prove to her parents she can stand on her own two feet for at least a year. Naturally, the interview doesn't go so well, mostly due to her potential boss Jacob's overall disposition towards others. However, given his current desperation to find a BnB Chef who will cook for the up'n'coming Gingerbread Festival to put his BnB on the map, he realises that he really doesn't have a choice but to give Eve a go. Subsequently, what starts out as a series of unfortunate events, leads to Jacob and Eve having to engage in some deep soul searching to discover that there is enormous joy and comfort in knowing exactly who you are and precisely what it is you want from life.
Typical of Hibbert's style, themes and intent, her characters aim to represent marginalized people who have had inherently different and often silenced access and participation points within society. Jacob, initially presented as a black and white universalist who is difficult for anyone to engage with (despite his described hotness,) is in fact on the spectrum, and via Jacob and his lived experience, childhood neglect and anti-autistic ableism are explored quite beautifully. Despite the relatively heavy, yet incredibly relevant topics, there was actually a level of lightness that wasn't diminished through her appropriate treatment of both concepts and people.
Eve, from the onset, is easily loveable; flighty, clever, determined and manages to match Jacob's quick wit and impress him early on. And whilst our two central characters come from vastly different backgrounds, their similarities number many and by and large they compliment each other to a tee. The only real drawback was time, or indeed it's lack thereof. Eve effectively ventures into a path of self-discovery and Jacob's whole world changes and unfortunately some dramatic outcomes occur in only a short 14 day window which impacted plausibility and believability. Having said that, there was so much to love about this book and you'll find yourself wishing there were more Brown sisters, or indeed even a long lost cousin or brother to share in another great story about love, family and Happily Ever Afters.

Book Info:

Publication: 9th March 2021 | Avon | Brown Sisters #3
Eve Brown is a certified hot mess. No matter how hard she strives to do right, her life always goes horribly wrong—so she's given up trying. But when her personal brand of chaos ruins an expensive wedding (someone had to liberate those poor doves), her parents draw the line. It's time for Eve to grow up and prove herself—even though she's not entirely sure how…
Jacob Wayne is in control. Always. The bed and breakfast owner's on a mission to dominate the hospitality industry—and he expects nothing less than perfection. So when a purple-haired tornado of a woman turns up out of the blue to interview for his open chef position, he tells her the brutal truth: not a chance in hell. Then she hits him with her car—supposedly by accident. Yeah, right.
Now his arm is broken, his B&B is understaffed, and the dangerously unpredictable Eve is fluttering around, trying to help. Before long, she's infiltrated his work, his kitchen—and his spare bedroom. Jacob hates everything about it. Or rather, he should. Sunny, chaotic Eve is his natural-born nemesis, but the longer these two enemies spend in close quarters, the more their animosity turns into something else. Like Eve, the heat between them is impossible to ignore—and it's melting Jacob's frosty exterior.