In After I Do by Taylor Jenkins Reid, If anyone had ever asked Lauren if she thought she would one day fall out of love with her husband Ryan, she would have thought them crazy. They met in college and have been deeply in love and inseparable for years. But who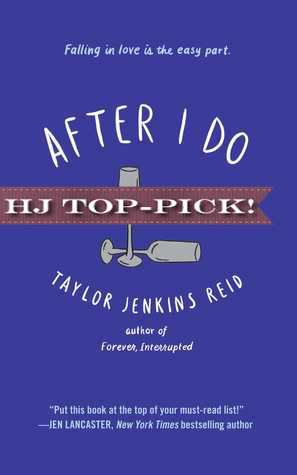 knew that eventually the drudgery of every day life would filter its way into her marriage? It seems that everything Ryan does–or doesn't do–angers Lauren to the point that the most common emotion she feels daily is resentment. Pushed to the breaking point, she realizes something must be done before their relationship completely implodes. But does she have the strength to be the one to broach the subject?
'Ryan and I are two people who used to be in love. What a beautiful thing to have been. What a sad thing to be.'
A raw, honest confrontation later, Lauren and Ryan decide to split up for a year, to look within for answers and get some breathing room. Lauren isn't sure how to tell her family and friends of the decision they've made, wondering if they'll be supportive or think she's making a mistake. But once she resigns herself to the facts, everyone follows suit offering up advice along the way. Unfortunately, it appears that no one relationship is alike, which leaves Lauren having to find her own answers to her and Ryan's situation. The lessons are hard-won, but when the year is over, she's more self-assured and has made a decision, the only decision, that is absolutely right for her.
'I think that's important. Neither of us suggested it. Neither of us said that this thing we have together, this thing that we have broken and is no longer working, neither of us said that we should throw it away.'
After I Do was a thought-provoking novel about one woman's year long journey to bring the love back into her marriage. What she learns along the way is profound, life-changing, and it ultimately makes her a stronger person.
'Do I get back together with the man I used to love? Or do I start over, now that I know that I can?'
I was intrigued when I read the synopsis for this novel. But if I'm being honest, I wasn't sure how taking a year "off" from marriage could ever work out well in the end. Following Lauren while she narrated this story was a bit heart-wrenching at times where she was brutally honest in her own thoughts and, definitely, when she finally confronted Ryan. Even though she didn't think of herself as strong, I thought it took a lot of courage to stand up and voice unhappiness instead of just pretending everything was fine. That act set into motion the changes that Lauren and Ryan would make over the next year, leading them to really look at themselves, questioning maybe for the first time what they truly wanted out of their marriage.
I liked that Lauren's family and friends were supportive, even if they might have had doubts about the outcome of such a radical move. And I thought author Taylor Jenkins Reid did a great job with those secondary characters, letting them hold their own weight in a conversation and becoming an integral part of the storyline at times. One of the things I was doubtful about was when Lauren's grandmother suggested writing in to an advice columnist for a different perspective on her situation. I didn't necessarily scoff at the idea, but still. Boy, was I wrong. Lauren's letter and the response she received back were some of the most poignant prose of the entire story, which brought a tear to my eye with the simple beauty of it. Now, I won't give away the ending obviously, but I will say that it did finish on a happy note and in a way that seemed genuine.
For fans of women's fiction, I think Lauren's story will resonate with its emotional depth, laughs and losses, and the discovery that sometimes standing on your own two feet can only get better when you share that strength with the one you love most.
Book Info:

Published July 1st 2014 by Washington Square Press
From the author of Forever, Interrupted—hailed by Sarah Jio as "moving, gorgeous, and at times heart-wrenching"—comes a breathtaking new novel about modern marriage, the depth of family ties, and the year that one remarkable heroine spends exploring both.
When Lauren and Ryan's marriage reaches the breaking point, they come up with an unconventional plan. They decide to take a year off in the hopes of finding a way to fall in love again. One year apart, and only one rule: they cannot contact each other. Aside from that, anything goes.
Lauren embarks on a journey of self-discovery, quickly finding that her friends and family have their own ideas about the meaning of marriage. These influences, as well as her own healing process and the challenges of living apart from Ryan, begin to change Lauren's ideas about monogamy and marriage. She starts to question: When you can have romance without loyalty and commitment without marriage, when love and lust are no longer tied together, what do you value? What are you willing to fight for?
This is a love story about what happens when the love fades. It's about staying in love, seizing love, forsaking love, and committing to love with everything you've got. And above all, After I Do is the story of a couple caught up in an old game—and searching for a new road to happily ever after.