After Wimbledon by Jennifer Gilby Roberts: Sara and I are big tennis fans and though our favorite players are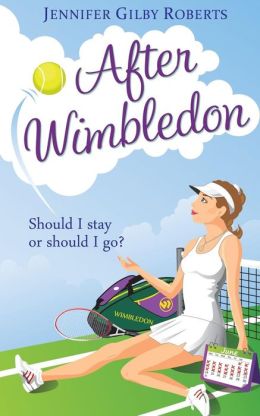 rivals on the court (Roger Federer for me, Rafa Nadal for her), we both know the joy of watching a well fought match. When she invited me to do a guest review of After Wimbledon (a women's fiction/romance genre story), I was thrilled by the invitation (thanks again Sara!) as well as the opportunity to read and review a book featuring tennis as the sport! There aren't many of them out there (and feel free to mention any good ones you've read in the comments please) as the most popular sport romances, at least in North America, tend to feature hockey, football and baseball. Like any sport romance there has to be a balance between the romance and the role of the sport in shaping the story so I was curious to see how the author would accomplish this.
Lucy is a tennis pro who has been on the circuit for 12 years. The Wimbledon championships will start in a few days and she's had an epiphany – after this tournament she's ready to retire. She's tired of the travel, she knows that her game isn't going to get any better as she gets older and she wants to settle down and move on with her life. Her current boyfriend Joe is also a tennis professional. She's got a new friend, Sam, the #1 tennis player on the circuit (and Joe's rival) whose life seems to be headed more in the direction that she's looking for. Over these two weeks of the tournament she's got a lot of decisions to make that are going to impact her future and the future of those around her – plus, she's going to have to play the best tennis of her life if she wants to win and hold the trophy up for Britain. Is she up for the challenge?
I loved this story! It's told from Lucy's point of view and from the very start her voice drew me in, made me laugh, and entertained me thoroughly. Her relationship with her boyfriend Joe is clearly one of sexual convenience rather than actual deep emotions. He comes off as an arrogant jerk for the most part – he's very unsupportive of her decision to retire and equally doesn't give her any encouragement in her upcoming matches where she'll be facing tough opponents. She knows it's time to end things – but breaking up with someone in the middle of the Wimbledon Championships isn't something she's willing to put even him through. Here's a prime example of her relationship with Joe:
My phone rings again. I pick it up expecting Adrienne, but it's Joe.
"Do you want sex tonight?" he asks, by way of greeting. "I thought I'd call first before I bother coming over there."
And they say romance is dead.
"No", I say, although it's not strictly true.
"Are you sure you're not sick?"
"Yes."
"But it's been 3 days!"
and after that conversation, Lucy thinks:
I should just forget about men altogether and focus on my game. It always served me well. And it's an important match tomorrow – against someone I have a good chance of beating. It's stupid to let emotional crap get in the way. After all, love means nothing in tennis.
(Note: I love that tennis pun!)
By contrast, becoming friends with Sam gives her a much needed morale boost. He's friendly, smart, competitive, and the fact that he's the #1 player, and has just recently become a British citizen and therefore can play for Britain is icing on the cake. He gives her the support that is sadly lacking from Joe, and there are some sparks between them that are hard to ignore. But cheating on Joe isn't something that either Lucy or Sam take lightly and nothing's going to happen between them until Lucy makes up her mind about Joe. I really enjoyed Lucy's friendship with Sam, and how she figures out that he's much more open to her when she's treating him like a regular guy as opposed to a number one tennis player. Sam has his secrets too, and he keeps himself closed off – when he starts to reveal more personal details of his life to Lucy is when she realizes that she's going to have to decide what it is she wants for the future.
And amidst the emotional turmoil Lucy is experiencing, she also has a job to do – to play the best tennis of her life in this Wimbledon Championship. I really enjoyed the tennis aspects of this story. You get a great view of what it's like to be a tennis player, both on and off the court. The author has done a fantastic job of describing the matches, with the commentary being spot on. Case in point:
My first serve is perfect. An ace, surely? But no. Back it comes, perfectly positioned. 0-15.
The next is again fast and neat, but she gets to it. Then she wins the ensuing rally with a beautiful cross-court shot that clips the line with the very bristles on the ball. I know because I challenge it. I shake my head in wonder at the image on the screen. Incredible. 0-30.
I take a chance on serve and volley. I execute it perfectly and get an impeccable passing shot back by way of congratulations. 0-40. Three break points.
I save the first capably, and the second by luck.
I serve. A bullet returns. A punishing rally, ending when her ball clips the net and falls back onto her side. Deuce.
Now, being a tennis fan and following the game closely, I found the match descriptions and the progression of the tournament really exciting and it made the story hard to put down. It's difficult for me to say how a non- tennis fan would find this book, if they would be confused by the commentary or would be able to follow along. There's no tennis primer at the beginning of the story- there's an expectation that you either know the game or will be able to pick it up as it goes along,
As the story progresses, so does the tournament and I was invested in the outcome of all of it – If Lucy would win the women's championship, If Sam or Joe would win the men's championship, and equally if Lucy would end up with Sam , stay with Joe or give up on men for the foreseeable future. It was a delightful read and I highly recommend it.
Guest Reviewer, Maria Rose:
I first started reading romance books when my junior high locker partner would bring her mom's Harlequins to school for us to swoon over. From there I branched off into historical romance by classic authors such as Johanna Lindsey, Barbara Cartland and Kathleen Woodiwiss. Though I still love historical romances to this day, I also really enjoy contemporary, new adult and erotic romances.
Book Info:

Published December 4th 2013 by Createspace
After 12 years on the pro. tennis tour and four years with her sort-of boyfriend, Lucy Bennett has had enough. She wants real life… and real love.
Her life, her decision. Right? Well, no one else seems to think so. With opinions on all sides, Lucy's head is spinning. And she's stumbling right into the arms of long-term crush and fellow player Sam. Shame her boyfriend – his arch-rival – would sooner smash a racquet over their heads than agree to a simple change of partners.
As the Wimbledon Championships play out, Lucy fights for her life on and off the courts. The question is: what will she be left with after Wimbledon?