Alive Day (Homefront Trilogy #2) by Rebecca Crowley, is an emotional novella that I found to be compelling as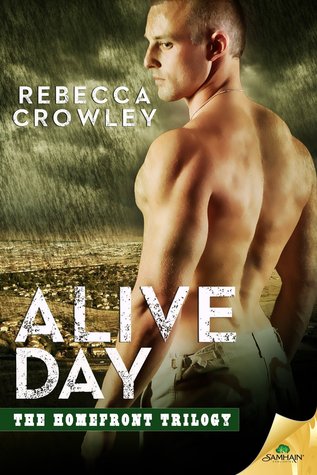 well as predictable. The two main charters, psychologist Mia Levin, and army captain Ethan Fletcher, have a lot in common. They were both involved in a horrific incident that they continue to think, dream and relive on a daily basis. This huge commonality is what ultimately brings them together and allows them to trust each other with their hopes, fears, and ability to love.
Mia Levin is a warmhearted woman who always plays it safe when it comes to dating and relationships. The men she seeks out are usually in academia or in her field of psychology, in addition to being just plain boring. However, she is extremely attracted to Ethan, as she helps him and his men work through their war horrors. The butterflies in her stomach continuously flutter whether he is around or not, and as a result, concentrating at times is difficult. Mia knows it is true love when Ethan comes to her rescue on more than one occasion.
Ethan is an infantry commander who not only is respected by his platoon, his very presence provides them with a feeling of calm. He blames himself for the losses in Afghanistan that were under his jurisdiction. As a result, he is having a difficult time moving on with his life now that he is home. Mia is his new neighbor and a thorn in his side, yet once Ethan experiences her openness and vulnerability, he begins to pull himself together.
Overall I liked Alive Day by Rebecca Crowley, however I found the first book in the series to be a little more exciting. Mia and Ethan are likeable characters and their background stories are interesting. Their chemistry is nice, but not earth shattering.
Alive Day by Rebecca Crowley ended happily, and I never doubted for a second that Mia and Ethan would somehow find a way to each other's hearts.
Book Info:

Publication: January 27th 2015 by Samhain Publishing |  (Homefront Trilogy #2)
Army infantry Captain Ethan Fletcher's Air Force colonel father disapproved his choice of military branch, but Ethan didn't care. He wanted his boots on the ground among the men he led, not to be flying high above the fray.
But after a particularly violent tour in Afghanistan costs the lives of some of his men—and nearly his own—his faith in service is shaken, his belief in himself shattered. The last thing he needs is some psych geek getting into his head, especially one who's strong, stubborn, and sexy as hell.
Psychologist Mia Levin's study of the 13th Infantry's Echo Company could vault her career to the next level, and change the way the Army handles returning soldiers. But first she has to get past the unit's overprotective captain—and keep him far from her fragile heart.
When a fender bender brings Ethan running to Mia's rescue, the threads of a tenuous attraction begin to intertwine and strengthen into a bond that could heal them both—if they aren't too far gone for love to reach.