All I Want for Christmas is a Duke was a collection of four lovely short stories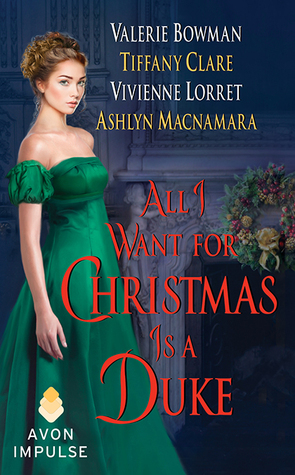 all wrapped around a Holiday theme. Written by such well known authors as Valerie Bowman, Tiffany Clare, Vivienne Lorret, and Ashlyn Macnamara, each of the novellas had their own distinct flair and engaging characters to meet. However, even though they were all unique stories, they shared a sense of passion as well as Christmastide blessings.

The Duke and Duchess Trap by Valerie Bowman: A second chance romance for an estranged married couple is brought about by their twin daughters who had been raised separately. Seeing the chance to reunite their mother and father, Gena and Evie formulate plans to make the holidays especially wonderful by showing them that some things, and people, may change for the better over the years.
'The truth was Elizabeth hadn't thought about such a possibility before. Was it conceivable that Nathan Hollister had changed?'
This was a sigh-worthy reunion story that was also a lot of fun to read. I loved the twin sisters, Evie and Gena. Their spirit and joy of spending time with each other and their parents was so clear in the way Valerie Bowman wrote their scenes. Of course, finding out the background between Elizabeth and Nathan and how they came to be at such a crossroads was very interesting. There were a lot of emotional scenes that I thought were extremely well written and pulled me right into the storyline.

Sophie and the Duke by Tiffany Clare:  This was also a reunion story of sorts. Lady Sophie Kinsley and Adrian Trenton, the Duke of Helmsworth, were childhood neighbors and best friends. Fifteen years have gone by since they have seen one another until Sophie and Helmsworth meet at a masked Christmastide ball he has thrown to find a wife. They are instantly drawn to each other and Sophie's hidden identity will not stop him from finding out who she is and how to make her his own.
"…I wish you luck this evening. You have a difficult decision to make in the course of one night."
"What if I said I need look no further?"
Sophie's breath caught. Surely he jested.
Stories with masquerades can be quite fun and this was no exception. I really enjoyed how Sophie's hidden identity played into her conversations with Helmsworth and how it kept stringing him along to figure things out. There was a lot of passion between the two former childhood friends and I completely agree with one sentiment from the end of the story: that friendship makes a great foundation for a loving relationship. These two sweet characters proved that perfectly.

The Duke's Christmas Wish by Vivienne Lorret: Rumor has it that the Duke of Vale, Northcliff Bromley, is throwing a Christmastide ball in search of a wife, as well as debuting his Marriage Formula. The scientific duke has created a formula to take the guessing work out of making a marriage match. But what Northcliff finds through his introduction to Ivy Sutherland is that his formula is missing the elements of attraction and love. Two key components that knocks the duke off his feet whenever he is near Ivy.
'The pad of his index finger grazed the warm, soft flesh of her arm and dipped, ever so slightly, beneath the cuff of her glove. A hedonistic shudder wracked him in that briefest of moments. And he was already several steps away before he heard her gasp.'
Another fun story. This was pretty unique in that the duke was very forward thinking and Ivy was impulsive and independent. It made sense that two individuals who were not necessarily what society would deem as part of the norm would be drawn to each other. I loved the feel of their scenes together. It was written in a very sensual way but also had a sense of wonderment that they could find someone who would understand them for who they are. Loved that.

One Magic Season by Ashlyn Macnamara:  In this sweet second chance romance, Duke Nathaniel Kingsbury, a widower, and Lady Patience Worthington, also a widow, find themselves face to face for the first time in a decade when Nathaniel is stranded on the road in a snowstorm. Patience kindly offers him a place to stay for the night in her dower house, but it is soon evident that the feelings they both felt so many years ago have grown stronger if anything. Will their blessings this holiday include finding a chance at love?
'His mouth descended in a devouring kiss that stole her breath and inflamed her senses. A decade's worth of yearning poured into that single act.'
As much as I enjoyed all of the stories, for some reason this one really touched my heart. I'm a sucker for reunion stories anyway, but the tenderness with which this novella was crafted was just wonderful. I loved that sense of longing that both Nathaniel and Patience had to get back the years that were lost between them and that they both wished they would have stood up for themselves a decade ago. There were fun moments, passion-filled scenes, and a great sense of the Season as well.
If you're looking for a solid anthology of historical romances filled with Christmas spirit and entertainment, I suggest checking out All I Want for Christmas is a Duke.

Book Info:

Publication: Published December 1st 2015 | by Avon Impulse |
The holidays are a time for dining, dancing, and of course—dukes! Celebrate the Christmas season with this enchanting collection of historical romances featuring the most eligible bachelors of the ton…
A childish prank may have reunited the Duke of Hollingsworth with his estranged wife, but only the magic of Christmas will show this couple 'tis the season of second chances…
Sophie Kinsley planned to remain a wallflower at the Duke of Hollyshire's ball. Yet when a dance with him leads to a stolen kiss, will the duke be willing to let her go? Or will Sophie's Christmas wish be granted at last?
To the Duke of Vale, science solves everything—even marriage. When the impulsive Ivy Sutherland makes him question all of his data, he realizes that he's overlooked a vital component in his search for the perfect match: love.
Patience Markham never forgot the fateful dance she had with the future Duke of Kingsbury. But when a twist of fate brings them together for Christmas Eve, will the stars finally align in their favor?