All Over You is the second book in Sarah Mayberry's 'Secret Lives of Daytime Divas' series, now being re-released in digital format. It was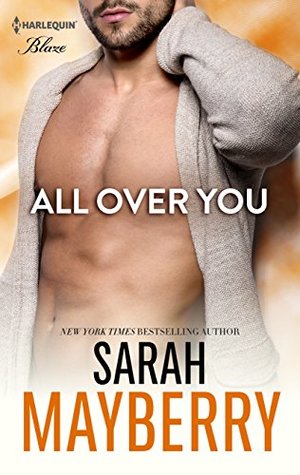 first published in 2007 and its soap opera theme would definitely have been a hit then, not to mention that the author has a knack for writing sexy and compelling romances. Though soap operas don't have the audience that they once did, I still found it a delightful behind the scenes look at the day to day operation involved in keeping a show like this on the air. Plus it's got a theme that definitely appeals to the soap fan in me – ordinary girl and soap opera star find their happy ending together!
Grace Wellington is a script editor on the soap opera Ocean Boulevard, where she works with her two best friends Claudia and Sadie, both producers on the show. She's always thought of herself as a rather plain woman, so she has cultivated her own unique sense of style with the clothes she wears and her outward 'take no prisoners' confident demeanor. Her last relationship ended in disaster, and put a wedge in her family too when her boyfriend and sister slept together. Thank goodness for strong female friendships or she'd never have recovered from that betrayal. The only relationship she's having right now is a fictional one – with the sexy, handsome male character of Kirk, star of her show. At least he can be trusted to never let her down.
Mac Harrison has played the role of Kirk for years, having left on a six year absence and recently returned again to reprise his very popular character. Typecast for so long in one role, he'd been unable to branch out to new ones and had reluctantly returned to the familiar TV stage. He's been suffering with depression, drinking too much, and knows he needs to do something before his life spirals out of control. One thing that does give him hope is the chance to get behind the camera lens instead of in front of it. He'd directed a few episodes previously and the new producer has taken a leap of faith and given him the charge of directing their upcoming feature length wedding episode. Mac will have to work closely with Grace who will be helping write and edit the script for the episode. Will she put aside the fantasy she's created about his character for the real man in front of her?
This is a fun and sexy story with a woman caught up in her fantasies who must take a close look at reality to determine what she really wants. Because Grace's been using the thought of Mac as her own personal playground, she's embarrassed when she finally meets him and as a result comes off as cold and standoffish. Mac is attracted to her right away, but Grace doesn't believe his flirting or his charming manner. She insults him from the get go, and even knowing she's behaving poorly doesn't stop her from doubling down and making things worse. Yet, when they are alone together, the sizzling sexual chemistry between them results in a one night stand – and an awkward aftermath. They still have to work together after all, but now that they know how explosive they are in bed together, it's hard to keep their minds on the task at hand.
A scouting trip to Hawaii for locations for their wedding episode gives them the chance to really learn things about each other. They share more intimate scenes, their thoughts and emotions combining with the sex to fan the flames between them. Grace is hesitant to get involved in anything more than a sexual relationship, but Mac is discovering that he wants more. On the job conflicts and family ones make the story a compelling read as they eventually get to their happy ending. It's another fun, exciting and sexy romance by Sarah Mayberry.

Book Info:

Publication: Mar 1, 2017 | Harlequin SuperRomance | Secret Lives of Daytime Divas #2
Rediscover this steamy behind-the-scenes romance from fan-favorite author Sarah Mayberry
Sometimes reality is hotter than fantasy
Millions of women drool over soap star Mac Harrison. And scriptwriter Grace Wellington is no different—the hottie headlines all her wildest fantasies. She keeps him firmly in his place there, however, because her days have no room for such ego-driven men.
But when she and Mac are thrown together on a project, fantasy becomes blissful reality! All of her secret, naughty desires come to life under his sizzling ministrations. This is one affair to remember—and to let go of when it's over.
Too bad Mac doesn't agree. He wants to move things from just sex to true commitment. Worse, he has all the right moves to convince her real life is much better….