Delancey Stewart's Without Words had me by heart from the first chapter when I feel in love with Roberto (Rob). He is such a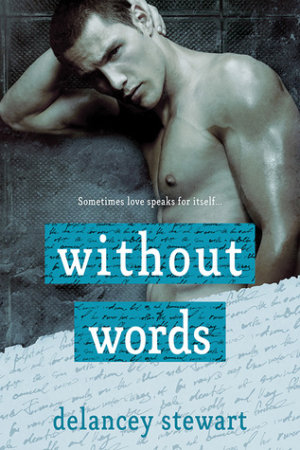 sympathetic and endearing character, and I became so invested in him finding his happy-ever-after that I could hardly wait for things with him and Dani to play out.
Rob was a firefighter who suffered a traumatic brain injury, and he is struggling from the life-altering effects a year later. He has not been able to return to work and has a very hard time communicating, and his self-esteem and self-worth have plummeted. He finds solace in singing, and he performs at his friend's bar from time to time. One night while he is there, he sees Dani and is gobsmacked.
Dani is an energetic, positive woman who is opening her own book and wine store. She is extremely attracted to Rob when she sees him at the bar, and approaches him. When he doesn't respond to her—it's difficult for him to find the words in these situations—and she mistakes it as rejection. She doesn't think she'll ever see him again, but they run into each other when he walks by her new store while she is renovating on her own. He is extremely attracted to Dani, but struggling to deal with his problems communicating and feeling she'd never want a man like him without a job. He thinks he should stay away, but he can't and ends up helping her work on getting her store opened. They slowly and sweetly get closer as they work alongside each other.
Their chemistry moves at a much faster pace; they cannot keep their hands off each other, and their interludes are both romantic and hot. Roberto must talk to Dani and be vulnerable, and he has to trust her to accept him. She does a great job of patiently giving him the confidence to confide, and she makes him believe in himself again. He feels hopeful again, and he and Dani's journey is both uplifting and romantic to read.
Ms. Stewart did an incredible job writing a story about traumatic brain injury. It is devastating and often changes the course of the lives of the person hurt and his or her loved ones. Ms. Delancey presents it accurately and with compassion while also writing a story of survival and hope. Roberto is a hero that I will not forget, and I highly recommend the moving and powerful Without Words.
Book Info:

Publication: 5/22/17 | Entangled Publishing |
Sometimes love speaks for itself…
After an accident in the line of duty, firefighter Roberto DeRosa's life is turned upside down. His career fighting fires is over, and he's left with an uncertain future and an injury that makes communicating difficult for him. The only time words flow easily is when they're lyrics and he has a guitar in his hands. Talking to women is definitely out, especially if they have bright blue eyes that seem to see right into his soul.
Dani Hodge is on the brink of realizing her dream of opening a small combination wine and book store in San Diego's funky Ocean Beach neighborhood. But before she can open the doors, there's work to be done, more work than she can do herself.
When the tattooed guy who completely ignored her at a bar walks by and offers her a hand wrangling a tile saw, Dani can't afford to say no—and why would she say no to Mr. Strong and Silent when his stare conveys more than words could?