All the Little Lights by Jamie McGuire: Elliott loves his summers in Oak Creek. It's a chance to escape the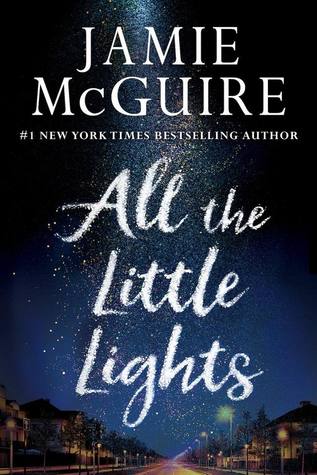 constant fighting between his parents and explore the world with his camera. He's sweet, generous, loyal, protective, and so eager for a change in his life. Catherine is very much a daddy's girl. She treasures the time they spend together and how much he makes her feel safe and loved. She can't wait to grow up and escape the suffocating house, town, and her parents fighting.
Catherine is definitely an outcast in the very small town of Oak Creek. She doesn't have many friends and is surprised by just how quickly Elliott finagles himself into her life. They quickly bond over how similar their lives are in some ways and Elliott opens her up to the beauty to be found in their dusty Oklahoma town. It's the best summer of their lives until Catherine's world irrevocably changes just as Elliott has to go home.
"That's pretty profound."
"I listen to him sometimes, even though he thinks I don't."
"What else does he say?"
He didn't hesitate. "That you either get good at rising above and meeting ignorance with education, or you get really good at being bitter."
Both find new struggles and ways to cope in the intervening years. Catherine is more isolated and more of an outcast than ever and Elliott has found that channeling his anger and frustration into working out has changed his appearance and skills on the football field. Returning to Oak Creek years later right as both are seniors in high school shows how much has changed. Elliott is patient and persistent as he works past the new walls Catherine has put up and they find their way back to each other.
"You know, maybe not everything is your business."
"I didn't say it was, but I can still worry about you."
"I didn't ask you to worry about me." I closed my eyes. "I don't want you to worry about me. You can't help anyway. Your life is messed up enough for both of us."
All the Little Lights is a rollercoaster ride with angst, conflict, mystery, secrets, scandal, family, and all the drama of high school and of first love. Jamie McGuire certainly will keep you intrigued and glued to the story until the surprising end. Ms. McGuire developed a really diverse set of strong personalities, all of which had their own challenges. Fans of K.A. Tucker and L. A. Fiore will enjoy All the Little Lights.
Book Info:

Publication: Published May 29th 2018 | Montlake Romance |
From #1 New York Times bestselling author Jamie McGuire comes a riveting tale of first love that starts young but runs deep.
The first time Elliott Youngblood spots Catherine Calhoun, he's just a boy with a camera, and he's never seen a sadder and more beautiful sight. Both Elliott and Catherine feel like outcasts, yet they find an easy friendship with each other. But when Catherine needs him most, Elliott is forced to leave town.
Elliott finally returns, but he and Catherine are now different people. He's a star high school athlete, and she spends all her free time working at her mother's mysterious bed-and-breakfast. Catherine hasn't forgiven Elliott for abandoning her, but he's determined to win back her friendship…and her heart.
Just when Catherine is ready to fully trust Elliott, he becomes the prime suspect in a local tragedy. Despite the town's growing suspicions, Catherine clings to her love for Elliott. But a devastating secret that Catherine has buried could destroy whatever chance of happiness they have left.