In All the Way (Romancing Manhattan #1) by Kristen Proby, Finn Cavanaugh made a name for himself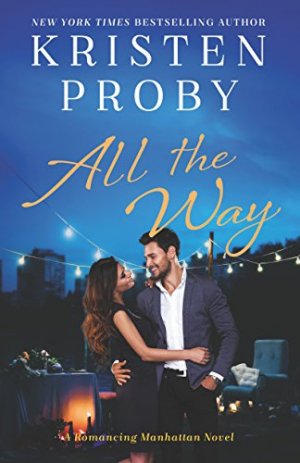 as a sought out lawyer before forming his own booming law firm with his brother Quinn and brother-in-law Carter. Taking the opportunity to get away for a much needed break, Finn and his niece Gabby leave NYC for picturesque Martha's Vineyard for a few weeks. Which also gives him the perfect chance to catch up with his beachfront neighbor, London Watson. Beautiful, talented and unfortunately grieving over a recent loss, she captured Finn's attention the moment they met. And it isn't long until she steals his heart as well, leaving him pretty sure that London is the woman he was meant to fall in love with all along.
"I love you more than I ever thought it was possible to love another person. It seems that you came crashing into my life in one big, magical storm, and I can't remember what is was like before you."
Wondering if she'll ever get back up on a theater stage again after a tragedy left her with a severely broken leg, Tony award winner London Watson is trying her best to cope with it all. Retreating to the one place filled with happy memories of when her family was intact, she starts the healing process–physically and mentally. But it's slow going. When she realizes her neighbor is not only adorable Gabby, a ten-year-old girl with her own tragic past to sort through, but also Gabby's uncle, Finn Cavanaugh, London finds herself joining the duo and actually enjoying herself. It doesn't take long for her to see a future with Finn. And given the state of her life at the moment, that's more than a little scary. But how can she let go of such a kind, sexy, wonderful guy when they're just getting to really know each other?
"You're a big deal," he whispers. "And not because of who you are in the show-business community, but because of who you *are*."
I lean into him and sigh when he loops his arms around me and holds on tightly.
"Back at you," I reply happily. "Right back at you."
Instant attraction turned into a sultry romance with plenty of promise for the future in All the Way, the first book in Kristen Proby's brand spanking new series. And what an enjoyable time I had reading it.
'If I'm not mistaken, Finn Cavanaugh just *claimed* me. And it was the hottest moment of my life.'
Written with the same attention to detail and comical, modern dialogue I instantly think of with Kristen Proby's work, I truly flew through the pages of this book. Had I not been interrupted by pesky customers at work, I could have easily finished this in one sitting. (lol!) But seriously, the attraction between Finn and London was ridiculously good. Which of course meant the sexy time scenes were super hot–and boy didn't Finn have a naughty side to him. *fans face* I really liked that they were both a bit more mature in age: London in her early thirties, while Finn was just turning forty. They did occasionally act more like they were in their twenties when it came to their ability to actively listen to each other and their lack of compromising a few times. But overall I thought Finn and London were a great pair.
There honestly wasn't a huge amount of drama here. Some things relating to London's family tragedy, and with Finn's sometimes-cranky niece Gabby. To me this was more about watching their relationship grow and seeing how they worked out their personal differences to balance their busy lives, where they were both so accomplished in their respective careers. And I was okay with that. It was a fun, smexy story that had just enough emotional depth to keep me engaged and yet kept things upbeat so it wasn't too heavy. Which it could have been easily enough, given London's recent loss of her parents and what happened a few years prior to Finn's sister.
Kristen Proby's All the Way had the elements I've come to love in her romances: heat, lighthearted moments, and lots and lots of heart. This was a solid start to the Romancing Manhattan series, and I can only imagine the next book will continue that trend.

Book Info:

Publication: Published August 21st 2018 | by William Morrow Paperbacks | Romancing Manhattan #1
In New York Times and USA Today bestselling author Kristen Proby's brand new Romancing Manhattan series, three brothers get more than they bargain for as they practice law, balance life, and navigate love in and around New York City.
Finn Cavanaugh is known for being a force to be reckoned with in the courtroom. He owns a successful law firm with his brother and brother-in-law in Manhattan. On the rare occasion that he has down time, he spends it at his home in Martha's Vineyard. But when Finn's troubled niece goes to stay with him for the summer in Martha's Vineyard, he's reluctant to take time off from work. That is, until he meets his beautiful new neighbor, London.
London Watson is a Tony Award winning actress on Broadway. When tragedy strikes her family, leaving her alone and injured, she flees Manhattan for Martha's Vineyard. Hoping she can figure out how to pick up the pieces of her life, London is convinced that she'll never be able to return to the stage. But when she meets the charming young girl next door and her sexy uncle, they soon lure London out of her shell as she finally begins to heal from the wounds of her past.
But when London feels confident enough to return to the spotlight, she's dealt another devastating blow. Will the newfound love between London and Finn be enough to conquer all? Or will it be over before it has a chance to grow…?