Wild Wyoming Nights by Joanne Rock is the eighth book in the McNeill Magnates series, a multi character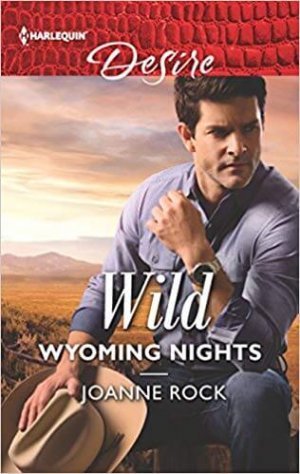 Western themed family saga. Each book has a standalone romance, but there are some story arcs that continue from one book to the next. In this story, affable ranch owner Carson McNeill meets his match.
Emma Layton enjoys her job as a stuntwoman. Hired for the movie filming on the McNeill property, she reluctantly admits that she's not as familiar with horses as she'd like to be. When Carson McNeill insists on giving her some riding lessons to ensure everything happening on his ranch is up to safety standards, Emma admits that she feels attracted to the handsome, friendly cowboy.
But Emma has reasons to be wary. Her last boyfriend was abusive, and is just getting out of jail after a three year incarceration. It's the reason she was happy to leave L.A. for this movie shoot. When Carson finds out about Emma's past, he insists on moving her into his ranch home and increasing security for her and the other members of the film crew. Having Emma under his protection ignites feelings in Carson that are new. He's never wanted to commit to any woman before. Is Emma the one who will change his mind? And is Emma ready to give love another chance?
I've been enjoying this series, and having just read Carson's twin brother Cody's story (The Forbidden Brother), I was ready to see who would capture Carson's heart. The series takes place on ranches and guest homes run by the McNeill family and describes in lovely detail the wide open spaces of Wyoming's heartland.
Emma's past is not dwelled upon in detail, but is an important part of her character and her drive to be physically and emotionally strong as a way to deal with the trauma of betrayal from her ex-partner. With Carson, she is willing to share her secrets and in turn he too reveals some of the concerns currently affecting their family. Their attraction to each other quickly leads to a sexy no strings attached fling that they both know will have an end point when Emma returns home. The problem comes with their emotions getting more involved as they get to know each other. It won't be so easy to let go of what they are building. Fortunately, they make some decisions that lead to their happy ending.
There is a mystery surrounding Carson's stepmother Paige, one that is not solved in this story but a few more clues are revealed and Emma is instrumental in providing some of these. Also Carson's sister Scarlett is involved with the lead actor on the movie being filmed on their land and their story is a work in progress. I'm looking forward to continuing the series and reading more happy ever afters for the McNeill clan!

Book Info:

Publication: Aug 1, 2018 | Harlequin Desire | The McNeill Magnates #8
"You'll stay with me."
She can't resist the rich rancher!
Emma Layton is working in Wyoming to get away from her abusive ex. But when wealthy ranch owner Carson McNeill learns of her plight, he insists she stay with him for protection. Emma agrees–even knowing this cowboy may prove irresistible… Proximity soon leads to passion, night after night. But when Carson learns her secret connection to his family, this ride gets a whole lot wilder!