In Almost Just Friends by Jill Shalvis, EMT Piper Manning has put her dreams on hold to raise her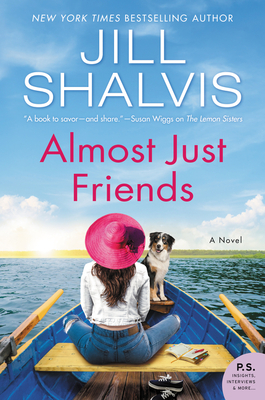 siblings. Her plan is to sell the lake house her grandparents left her and finally go to college to become a physician's assistant. Then she meets her neighbor's son, DEA agent and Coast Guard Reserve officer Camden Reid. Sparks fly, but Camden has his own reasons for staying in Wildstone. Piper's siblings have also returned, with their own secrets and plans for the lake house. When the truth comes out, will it ruin things between Piper and Camden, and will she have to give up her dreams once again?
I felt for Piper. She lives life according to a list she keeps in a journal. She puts everyone before herself, yet it seems like no one has the same consideration for her, except for Camden. Then, when her siblings finally decide to do something for her, they go about it the completely wrong way, which winds up with her having hurt feelings.
Camden himself is dealing with guilt not only over his brother's death, but from the secret he's keeping from Piper for her sister. He encourages Winnie to come clean to Piper multiple times but she refuses. It puts him between a rock and a hard place, so it wasn't hard to feel for the position he was in.
As for Piper's siblings, I found them to be a bit selfish throughout the book. They confide in one another, but they leave Piper out. After everything she had done, practically raising them since she was thirteen, it felt disrespectful. While I appreciated the effort they made towards the end, they could have handled it better, instead of leaving her feeling like she was blindsided.
There is also a side story of Piper's brother, Gavin, and his ex-boyfriend, CJ. While I enjoyed it, the storyline felt a bit rushed, which made it hard to buy into their second chance romance. I would have rather have seen it as either a separate novel or novella so the characters and their relationship could have been developed further.
While this is the fourth book in the Wildstone series, it can be read as a standalone. Readers new to the series won't have any issues jumping into it with this book.
Almost Just Friends is about the ups and downs of dealing with family, the way secrets can hurt someone, and finding love when you least expect it. Jill Shalvis has once again created a heartfelt story with characters readers will be able to relate to and sympathize with.
Book Info:

Publication: January 21, 2020 | William Morrow Paperbacks | Wildstone #4
Piper Manning's about as tough as they come, she's had to be. She raised her siblings and they've thankfully flown the coop. All she has to do is finish fixing up the lake house her grandparents left her, sell it, and then she's free.
When a massive storm hits, she runs into a tall, dark and brooding stranger, Camden Reid. There's a spark there, one that shocks her. Surprising her further, her sister and brother return, each of them holding their own secrets. The smart move would be for Piper to ignore them all but Cam unleashes emotions deep inside of her that she can't deny, making her yearn for something she doesn't understand. And her siblings…well, they need each other.
Only when the secrets come out, it changes everything Piper thinks she knows about her family, herself…and Cam. Can she find a way to outrun the demons? The answer is closer than she thinks—just as the new life she craves may have already begun.