In Cinderella and the Surgeon (London Hospital Midwives Book 1) by Scarlet Wilson, Harry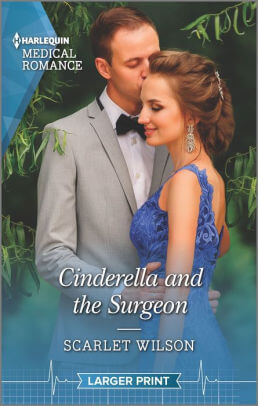 Beaumont would love nothing better than to forget about his royal duties and concentrate solely on his career as a neonatal surgeon. But his status as a Duke precedes him into every hospital to which he travels. Esther McDonald is a midwife and nurse at Queen Victoria Hospital in London who spends every waking moment taking extra shifts to earn more money. Two more different people, Harry and Esther, you might never meet again. But as they come to verbal blows over the care of a newborn with a heart defect, they realize they each care deeply about their young patient. And that the sparks of attraction flying between them could pose some other problems of their own.
"Why? You don't think I can be nice?"
She tilted her head to the side. "To be honest, I don't know what I think of you, Harry Beaumont, or should I call you the Duke of Montrose?"
An enemies-to-lovers (clean) royal romance that was charming and oh so passionate, Cinderella and the Surgeon was everything I love about Harlequin Medicals. Author Scarlet Wilson created a flowing story rich with flawed but likable characters and a situation that threw our hero and heroine way out of their comfort zone–something they didn't necessarily appreciate but that made it fun for readers.
'Neither of them had asked to be born into the life that they had. They were just two people whose lives had suddenly become intertwined.'
It was the bond Harry and Esther made while caring for a newborn boy that really sealed the deal for me, though. Well, that and the comical verbal sparring they had going on. Esther was one tough woman when she wanted to be–especially when it came to her little patients who needed all the help they could get at times. I loved that she wasn't afraid to speak up to the Duke when she thought Harry wasn't taking her seriously. And how he could also stand up to Esther when it was in the patient's best interest. Quite the duo! A team I would definitely want in my corner. (lol)
What a great beginning to the London Hospital Midwives quartet with this love story that showed how much in common two people who came from different worlds truly had. Cinderella and the Surgeon will be sure to delight readers and have them sighing happily with that sweet ending.
Book Info:

Publication: January 20th 2020 | Harlequin Medical Romances | London Hospital Midwives Book 1
A Cinderella midwife…And her dashing duke!
In this London Hospital Midwives story, when Harry Beaumont, Duke of Montrose, arrives at Queen Victoria Hospital, down-to-earth midwife Esther McDonald clashes with the buttoned-up neonatal surgeon. They're from different worlds, but when Harry invites Esther to a glittering ball, she begins to see beyond his title to the man inside. Independent Esther's life has never been a fairy tale—dare she let gorgeous Harry sweep her off her feet?
A London Hospital Midwives novel
The London Hospital Midwives quartet
Book 1 – Cinderella and the Surgeon
Book 2 – Miracle Baby for the Midwife by Tina Beckett
Book 3 – Reunited by Their Secret Daughter by Emily Forbes
Book 4 – A Fling to Steal Her Heart by Sue MacKay
"Overall, Ms. Wilson has delivered a wonderful and heartfelt read in this book where the chemistry between this couple was tangible from the moment they meet; the romance was full of sweetness and had me loving the teasing dialogue – at times — between these two that upped their chemistry…."
—Harlequin Junkie on Island Doctor to Royal Bride?