When I reviewed "Baby Out of the Blue", I mentioned it had a sequel. That sequel is Along Came Twins…by Rebecca Winters. It was lovely to read both books, as the second contained the intriguing characters of Kellie and Leandros Petralia, who were introduced in the first book.
Their marriage was teetering on the edge of disaster because of many things – the most heartwrenching of which is their inability to conceive. Kellie was a virgin before marrying the intense and magnetic Leandros, so she had no idea she had an allergy to him. This ensured their constant use of protection, and the need to turn to artificial insemination. Every time their attempts ended in failure, it put another wedge between them.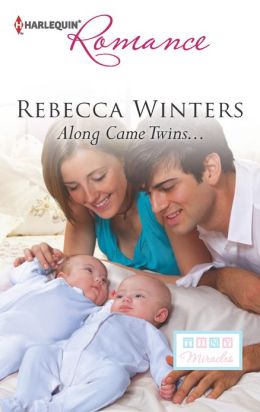 When Kellie could take it no longer, she returned to her Aunt and Uncle in Pennsylvania. After her parents passed away when she was a baby, they became her surrogate Mother and Father. They were overjoyed with her happiness and dismayed the marriage had failed. Kellie had fainted just before leaving Greece, and developed overwhelming nausea, so she turned to her doctor – and found out she was pregnant! Miracles do happen, and in her case, they were doubly surprising. She was pregnant with twins.
Knowing she had to share the news with her soon to be ex-husband in person, she flew back to Athens immediately. She had no idea that at the exact same time, Leandros had arranged time off and was within hours of boarding a plane headed towards America to see her. Thankfully, Kellie arrived unexpectedly at his office before he left, and gave him the wondrous news.
Leandros hadn't wanted to divorce Kellie in the first place, and now he was even more determined to win her back. He had no idea how to tackle their issues, so he took a bold step. He agreed to marriage counselling as his wife had requested months before. That impresses Kellie, as she knows her husband is not the type of man who opens up to strangers.
They select a very direct and honest older female therapist, who immediately gets to the heart of their issues. She demands they confront the demons which had torn them apart one by one. Neither of them were blameless, but she could see that they were earnest, and still very much in love with each other.
So many obstacles threatened their newfound openness, but they learned to take them on as a team. Even though the pacing seemed too fast for the amount of information covered, I still found myself becoming emotional along with the couple as I got further along in the story.
Sometimes the main characters were simply too good to be true, and that was a sticking point for me. They forgave an enemy of their relationship much too easily – I would have never allowed her to return to my life in any capacity, and they felt badly for her instead of furious. Otherwise, the situations were believable even though they were highly dramatized to heighten the tension. I enjoyed seeing the couple warm up to each other, and the scene that takes place in the church where they were married was just lovely.
Book Info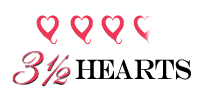 Publication Date: April 2, 2013 | Series: Harlequin Romance (Book 4373)
"We're going to have twins?"
Kellie Petralia, soon to be ex-wife of Greek billionaire Leandros, is miraculously pregnant with twins!
But the pain of being unable to conceive has taken its toll, and even as Kellie surprises Leandros with the exciting news they're just days away from divorce.
Only, Leandros has other ideas… Though they might have almost fallen apart, he knows they belong together, and he is determined to do whatever it takes to repair their marriage. Will he convince Kellie that miracles can happen more than once in a family?