In Alpha Night (Psy-Changeling Trinity #4) by Nalini Singh, Selenka Durev has grown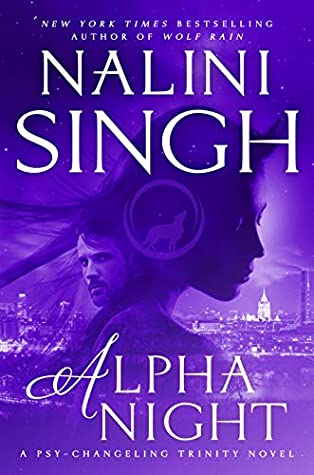 accustomed to the weight of responsibility, considering she is the alpha of her pack, the BlackEdge wolves in Moscow. But overseeing an event in her city with a bunch of Psy present? It has the potential for chaos. Selenka's instincts are spot-on, when she comes under fire and is saved by an Arrow named Ethan Night. With one look in his eyes, her wolf is sure he's her mate. Even though finding a mate without knowing them first, without courting, is unheard of. Soon, though, Selenka's attention turns to finding out who is trying to harm her pack–and she learns in the process that Ethan is more than worthy of being an alpha's mate. But she fears she may lose him before they can cement their bond, as it appears more and more like the jagged pieces in his brain, cold and full of power, are applying pressure that may end his life.
"I am the knight to your queen."
She might not agree with his choice of description, but it was how he saw himself–and no knight would ever put his queen in danger, especially not danger that came from within.
Arrow Ethan Night survived a hellish upbringing at the hands of monsters to become part of a team–yet not. Because as thankful as he is that he's no longer living a nightmare, Ethan lives in a gray fog that holds him apart from the rest of his fellow Arrows. That's why it was of no concern to him to be part of a plan to throw the symposium into disarray. But when Selenka is harmed, all bets are off. Ethan will not tolerate the alpha–or any other innocent being–coming to harm under his watch. So begins the bond with his beautiful wolf. Selenka brings him to her pack's den and introduces Ethan to a world of care, affection, love, laughter and loyalty. Things he's never known before. And as much as he craves more of it, he knows he needs to hold on to each tender memory and enjoy time with his mate before his broken mind finally gives out.
'Being with Selenka, it filled an emptiness so deep inside him that it had no name. This was where he was meant to be. And she was the woman with whom he was meant to be.'
Absolutely Epic. That's the only way to describe Alpha Night. Nalini Singh never ceases to amaze me with her heartfelt, thrilling novels, but the pairing of alpha wolf Selenka Durev and Arrow Ethan Night was utter perfection.
"Show me your jagged edges and your fractured pieces, your obsession and your need. Show me you."
Alpha Night. Wow! If you've been following the original Psy-Changeling series and/or the new season of it, Trinity, then you know things have been evolving from book to book since the fall of Silence. This latest installment showed the next sneaky steps the Architect and the Consortium took to further their cause. That was a huge, exciting part of the plot. What was also great was this pulled in a bunch of familiar faces: from Aden, Lucas, Kaleb and Sascha to Memory, Valentin, Silver and Alexei, among others. And they all held key roles in helping the Trinity Accord battle the issues in the PsyNet and against the Consortium.
Ethan and Selenka stole the show, though. I will be honest that I was a teensy bit worried how an Alpha heroine and an Arrow hero would be a solid match. How would two such dominant people be able to compromise and coexist without stepping on each other's toes? Thanks to a huge twist Singh threw their way, Selenka and Ethan completely meshed as a couple. I loved that they had so many tender moments between them that were sigh-worthy. Not to be outdone by the scorching hot love scenes rife with passion and yet also sweetness. Although Ethan and Selenka both went through some difficult times in their past, it was Ethan's background that will likely reduce readers to a few tears. I won't get into specifics, but I will say that he was a terrific man (I adored him!!) who became an integral part of Selenka's life *and* with her pack.
It's always interesting to see the inner workings of the changeling groups and to watch their relationships with each other. The BlackEdge wolves in Moscow were a close-knit family. And Selenka proved to be a wonderful Alpha for them. One who was kind but strong, loyal, fair, and had a huge heart. I did have to chuckle several times over the ongoing teasing back and forth between Valentin's bears and Selenka's wolves. What a riot. It showed that even though they were fierce warriors, they knew how to keep morale up during a time with so many changes and unknowns happening in their world. Ethan was another unknown for Selenka. And the fact that they mated upon first sight only added to the tough situation. But I couldn't have been happier how Selenka learned to trust Ethan and how well-suited they were for each other.
Alpha Night is a prime example of why Nalini Singh is one of the most popular authors today. With her incredible attention to detail, stories that host a myriad of emotions, and characters so tangible they could be standing in front of you, Singh's work is a must for fans of contemporary fiction.
Book Info:

Publication: June 9th 2020 | Berkley | Psy-Changeling Trinity #4
New York Times bestselling author Nalini Singh returns to her breathtaking Psy-Changeling Trinity series with a mating that shouldn't exist…
Alpha wolf Selenka Durev's devotion to her pack is equaled only by her anger at anyone who would harm those under her care. That currently includes the empaths who've flowed into her city for a symposium that is a security nightmare, a powder keg just waiting for a match.
Ethan Night is an Arrow who isn't an Arrow. Numb and disengaged from the world, he's loyal only to himself. Assigned as part of the security force at a world-first symposium, he carries a dark agenda tied to the power-hungry and murderous Consortium. Then violence erupts and Ethan finds himself crashing into the heart and soul of an alpha wolf.
Mating at first sight is a myth, a fairytale. Yet Selenka's wolf is resolute: Ethan Night, broken Arrow and a man capable of obsessive devotion, is the mate it has chosen. Even if the mating bond is full of static and not quite as it should be. Because Selenka's new mate has a terrible secret, his mind surging with a power that is a creature of madness and death…