Forbidden Lust by Karen Booth is a sexy 'best friend's sibling' trope romance and the second book in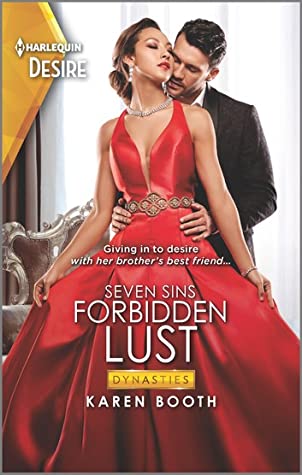 the multi-authored Dynasties:Seven Sins series.
Allison Randall has had a crush on her brother Scott's best friend Zane Patterson for years. She'd tried to get him to see her in a new light at her brother's recent birthday party by kissing him but he'd backed away, feeling the guilt of betraying his best friend too strongly.
Things have just taken a turn though with Zane taking a much needed break at an idyllic Caribbean island resort owned by Allison's aunt and uncle – and as luck would have it, she's already on the island. When a storm threatens, they get stranded together and things finally start to heat up between them. But when Zane finds out about a secret she's been keeping, will all her dreams go up in smoke?
I loved the setting of this story! Tropical islands are one of my favorite locales for a romance and it's easy to see why Zane finally succumbs to what Allison is offering. If I have a bone to pick with Zane it's that he takes the whole 'off limits because you're my best friend's sister thing' a bit too seriously, but in his defense, it's Scott who keeps reminding him to keep his hands off Allison, making it hard for Zane not to feel guilty. This is frustrating for Allison (understandably!) since she's a grown woman who can make up her own mind. The approaching hurricane on the island makes for some exciting action and also puts them together and unable to resist the strong attraction between them, leading to some sexy and passionate love scenes.
Of course, what happens on the island doesn't stay on the island, and here's where things get tricky (and not just because of Scott). The backdrop of the series involves a hedge fund scam artist who stole funds from several local families, and one of those families was Zane's. It resulted in his parents divorce, and he's never forgiven the Lowell family and their financial business Black Crescent. Unbeknownst to Zane, Allison has just accepted a job with Black Crescent as a corporate recruiter for them. Allison knows that Zane won't be happy with her choice, and she keeps it a secret – but like any secret, it's bound to be revealed. The result is some rocky times while Zane figures out whether what he and Allison have is worth fighting for.
I like the way the plot comes together, how Allison stands up for herself and her choices (including getting her brother Scott to see her as an adult) and the eventual satisfying happy ending. If you love island romances and the best friend's sibling trope, this is a fun and enjoyable read. I'm looking forward to the next in the series!
Book Info:

Publication: Jun 01, 2020 | Harlequin Desire | Dynasties: Seven Sins #2
Next stop, paradise—With the man of her forbidden fantasies?
Giving in to desire with her brother's best friend…
A secluded island resort is the perfect romantic setting for the night of passionate abandon Allison Randall plans to share with Zane Patterson. Her elder brother's best friend has always been off-limits…and Zane is determined to keep it that way. But when a storm strands them together, neither can hold back. Everything Allison dreamed of is finally in reach…until unwelcome revelations threaten a rude awakening!